Planning to visit the country which offers a lot to explore around. From Langkawi island to wildlife parks, everything you can experience here. Langkawi is one of the most popular beach places in Malaysia for tourists. It has a lot to offer like stunning landscapes, nightlife, expansive parks, pristine golden beaches, iconic & historic structures and many more. Still, Langkawi is small there are so many things to do in Langkawi for you. You can engage yourself here by touring museums, shopping outlets, and other spots such as aquariums and craft villages.
Plan your Malaysia holiday package to travel an array of amazing places to visit on a romantic trip to Malaysia. So, we take you on a Malaysia tour package of the best hubs for sightseeing in Langkawi. Here is what to do on your vacation time in Langkawi.
Best Places To Visit In Malaysia With Low Budget
To experience your vacation time in an amazing way to make wonderful memories then Malaysia Travel Guide helps you in placing top things to do in Malaysia. Pack your bags to fly to Malaysia on a budget.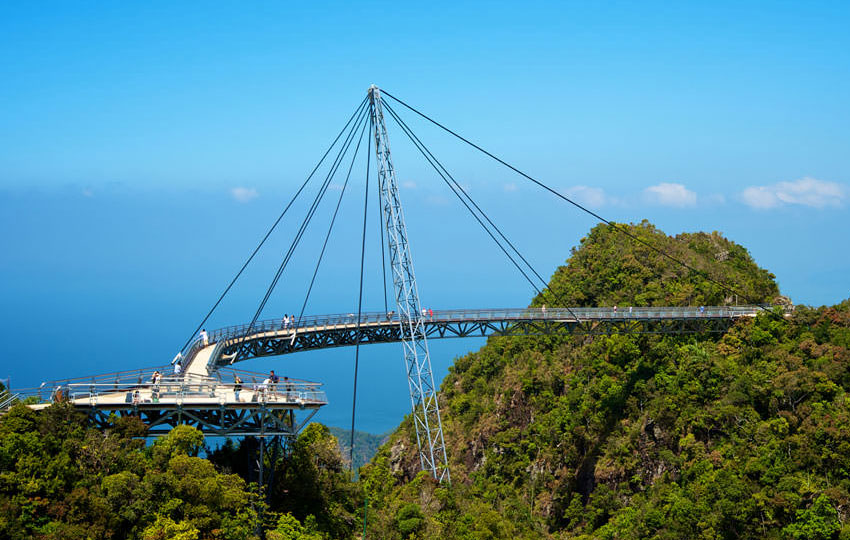 This bridge is one of the famous spots for tourists to experience the amazing views of the surrounding countryside. It is a 125-meter long curved walker bridge that offers an elevated view of a number of charming places to see in Langkawi. You can relax and enjoy the cool breeze above sea level as it allows tourists to view several small islands. However, there is only one way to reach the bridge is through Langkawi Sky Cab and can hold up to 250 people at a time. The ride of Langkawi Cable car is approx. 15 minutes to reach the top of Mt Mat Cincang.
Charges :
For Adults: RM 35, INR 603
For Kids: RM 25, INR 431
Opening Hours:
Monday to Saturday: 10 am – 7 pm
Only on Wednesday: 12 noon – 7 pm
Sunday: Closed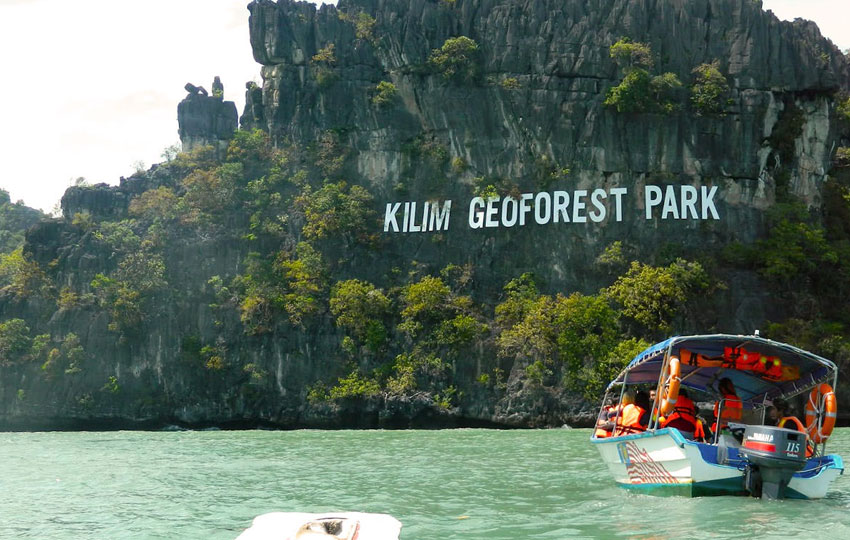 To experience the mesmerizing view while exploring the island on a boat, Langkawi is a place for you. It is covered in pretty mangroves that work like shelter to the island. You can here experience the best Mangrove boat tour at Kilim Karst Geoforest Park with your family and loved ones. While traveling on scenic boat tour, you will able to see rugged caves, limpid pools, and areas of forest lands. The best thing about trying Mangrove tour is that you can explore the places by walking around. Since there is stopped at a number of places. The duration of the tour is done for 2- 3 hours so you can enjoy lunch on the go as it also stops at restaurants.
Charges: Boat cost RM 250 (Approx.) which include 10 people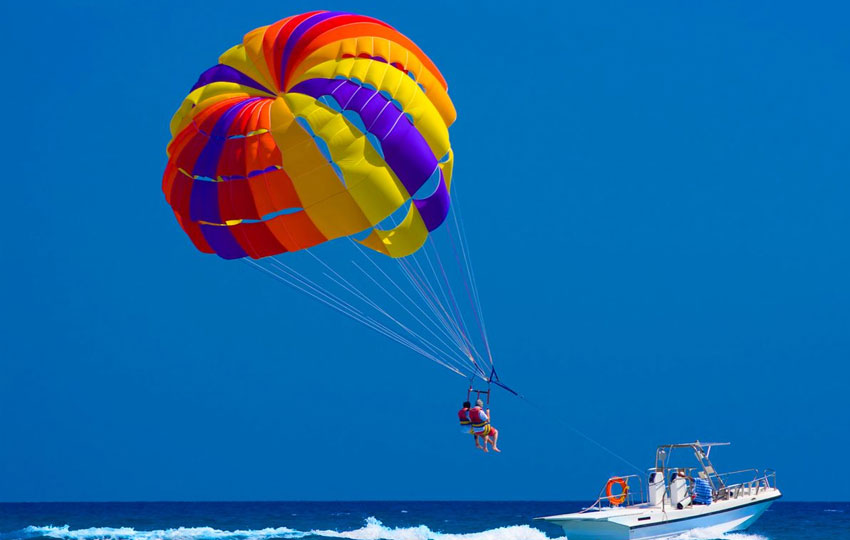 One of the most scenic beaches in Langkawi for sunbathing and water activities is Tanjung Rhu Beach. It is also famous for parasailing ride as this beach offers stunning views from the top. Emphasizing one of the best areas of land around rivers in all of Langkawi. You can also enjoy the water clear as crystal and forest view while visiting Tanjung Rhu Beach. Tourists visit this beach to experience the white sand of the beach and for relaxing their mind because the beach is not crowded.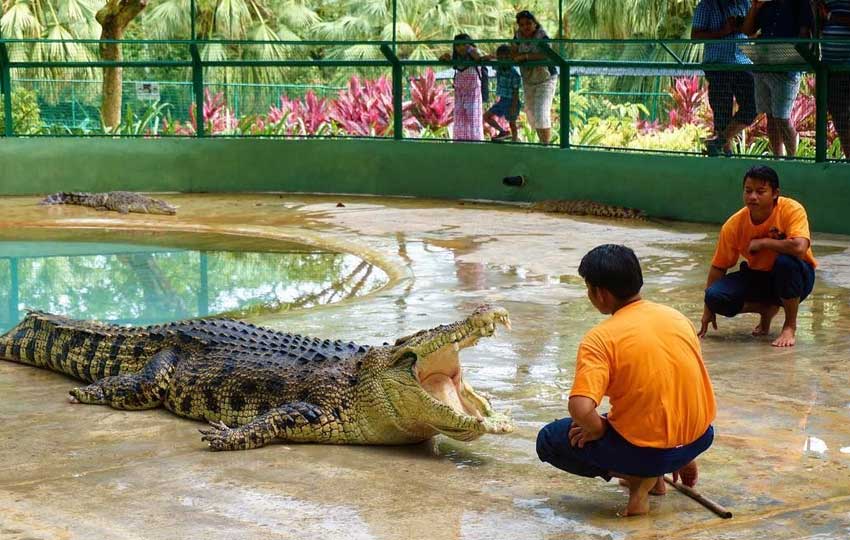 To treat yourself with the beauty of nature of Langkawi, the wildlife park & bird paradise is among the best tourist attractions in Langkawi. Eventually, there is a lot to explore with your loved ones like roaming around the park to see canaries, ducks, etc. In addition, you can also experience the man-made waterfalls which is 15 meters tall. Of course, you can also get a chance to feed animals to the closest. Since there are daily feeding sessions for vacationers.
Crocodile Adventureland Langkawi time:
Monday to Sunday: 8:30 am – 6 pm
Animal feeding sessions: 11 am – 4 pm
Charges:
For Adults: RM 28, INR 483
For Kids: RM 18, INR 311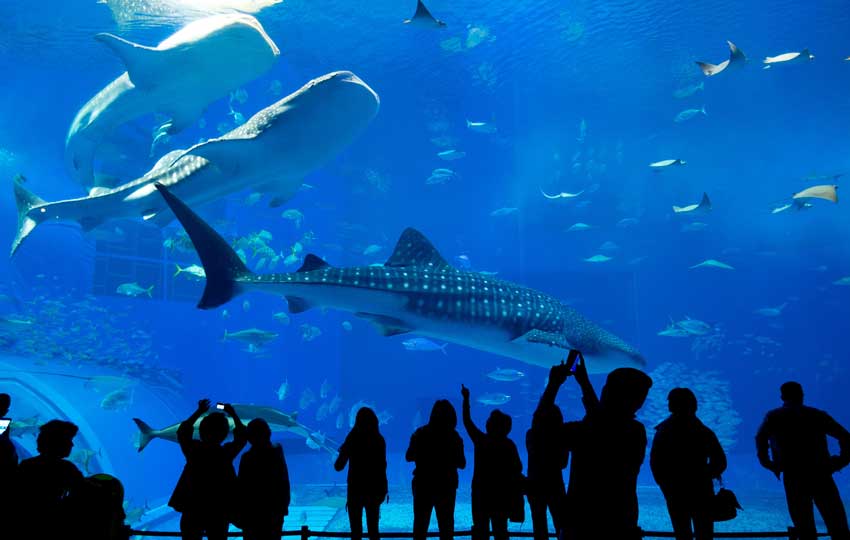 One of the best things to do in Malaysia is visiting underwater world Langkawi and try tunnel walk with your partner. You can able to experience amazing views of sharks, giant stingrays, and green turtles to the closest. Likewise, explore more of this top attraction to experience the marine life of the island by seeing sea creatures. Such as rockhopper penguins, seahorses, harbor seals, mandarin ducks, and flamingos. Furthermore, to save your time and spend that time travelling tourist attractions. Accordingly, the best time to visit Underwater World is just after landing at the airport. As it only takes 15 minutes to reach the place from the airport.
Opening Hours:
Monday – Thursday: 9:30 am – 6:30 pm
Friday – Sunday: 9:30 am – 10:30 pm
Charges:
For Adults: RM 43, INR
For Kids: RM 33, INR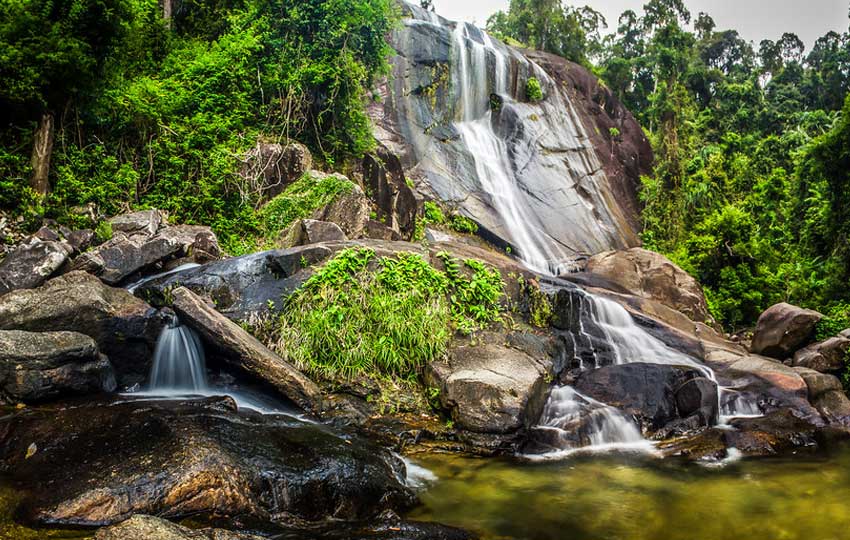 One of the most beautiful places to visit in Malaysia that will charm you beyond measure is only Telaga Tujuh Waterfalls. Also, it is known as the seven wells waterfalls after the seven natural pools in Gunung Mat Cincang. While doing steep climbing to reach the top of waterfalls, you can see some stunning scenery on the way. As well as able to see some cheeky monkeys so it's worth climbing to the waterfall. Therefore, do explore secret places to visit in Langkawi to make your trip memorable.
Langkawi Eagle Square is also known as Dataran Lang, which is one of the most famous places to see in Langkawi. The sculpture of an eagle with its wings wide open stands about 12 meters tall. Moreover, it is situated on the island in Kuah so you can experience some pretty fountains, scenic bridges, and a few restaurants and cafes.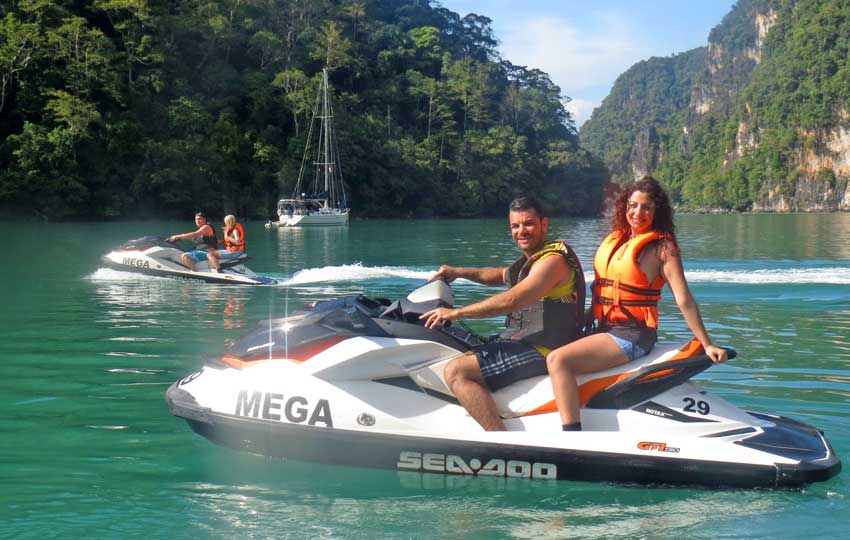 To experience the best island hopping and water sports, Langkawi is the best place to try. You can also try the 4 hours Jet Ski Tour around uninhabited island in the Andaman Sea. Cenang Beach is best to begin your ride through the calm water in Fjords. On the way of your ride, you can see green covered karst mountain peaks and many more things. At last, try your tour with Mega Water Sports on Cenang beach.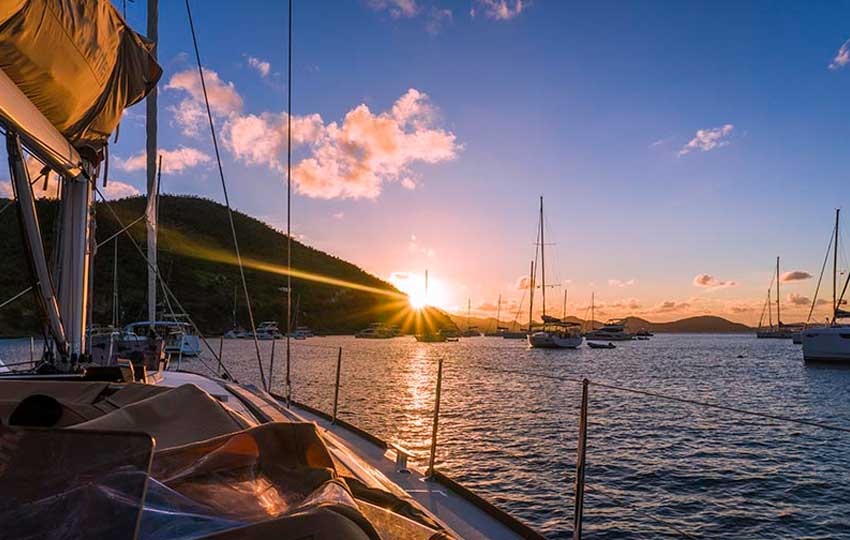 Visit Langkawi then experience sunset dinner cruise in Langkawi is a must-to-do thing for tourists. You get a chance to watch the sunset on the Andaman Sea with your partner. So, to feel the romantic vibes do add Cruise Tour on your Malaysia Honeymoon Package. Moreover, you will experience some mesmerizing views from standing on a cruise.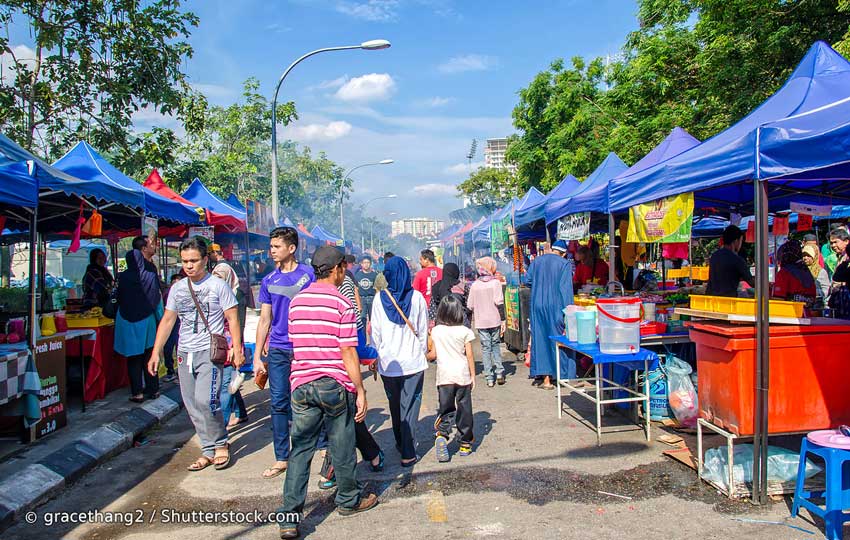 Once you are done exploring Langkawi Sightseeing, here is the time to experience local food of Malaysia. Ayer Hangat Friday Night Market is one of the famous places where you can eat to taste the Malaysia touch. Market has a lot to offer to vacationers which open up choices to select local dishes and delights such as satay (barbecued meat skewers), rice and noodles. Plus, there is no need to worry about the price as this market is one of the cheapest places in Langkawi for foodies. Here, you can also shop for clothes and souvenirs.
After knowing the places to see in Langkawi. What are you waiting for? Book your Malaysia Honeymoon Packages with Sharp Holidays at best prices. Let us know your requirements in the comment section to customized cheapest package for you.