Are you planning to get down to the place where you dream your honeymoon? What are you waiting for now? Get ideas to save your money to make your trip a pocket-friendly honeymoon vacation with your loved one and explore romantic places in Maldives. Maldives is one of the best destinations for honeymoon to plan your Maldives honeymoon packages from all cities of India on a budget. Also, it is one of the top dream places to visit for newly couples. Here is the list of the best places to visit in Maldives on your honeymoon to experience some cherish moments with your loved ones. Make sure you include these places in your Maldives Honeymoon Packages.
Things To Do In Maldives On Your Honeymoon
Looking for a romantic getaway to stay in a beautiful resort with an amazing view. Your searching here ends, you will get to know the best resort to stay for couples with feel of romantic vibes on your honeymoon vacation. Thus, below are some of the best resorts in Maldives for honeymoon mention with details where you can explore the nearby Maldives attractions.
Palm Beach Resort & Spa
Lily Beach Resort Maldives
Kurumba Maldives
Conrad Maldives
Cheval Blanc Randheli island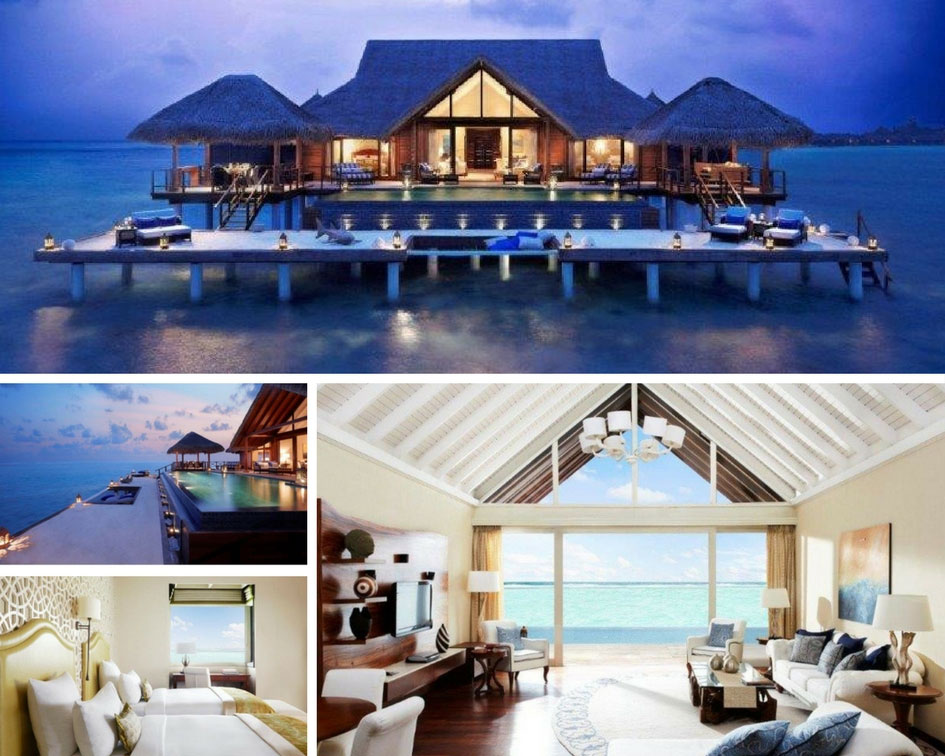 Everyone's dream is to stay in the luxury resort to make romantic memories with a beautiful view around you. Taj Exotica Resort and Spa is one of the best in the list of private resort island to stay with your loved ones. You can enjoy the place more by visiting nearby attractions in South Malé Atoll.

South Male Atoll
There are many things you can explore with your partner to make the memories for a lifetime and cherish up. Don't miss a chance to visit the famous islands and beaches like Gulhi Beach.
Taj Exotica Resort and Spa Price For Two: from INR 55,000 per night
This resort is a private luxury resort and best pick for honeymooners without regretting the decision. It includes 122 villas with private pool separately. The best element of booking the Shangri-la Villingili is the time factor, it takes around 5 minutes from the airport to reach the place easily.
Villingili Island
This island is also known as Villimale and situated in north male atoll. The white sand and stunning house reefs around the island adds up more beauty to it and make it one of the best places to visit in Maldives. You can explore Villingili island attractions and also the nearby male cities by including this resort in Maldives Honeymoon Packages. 
Shangri-la Villingili Resort & Spa Price: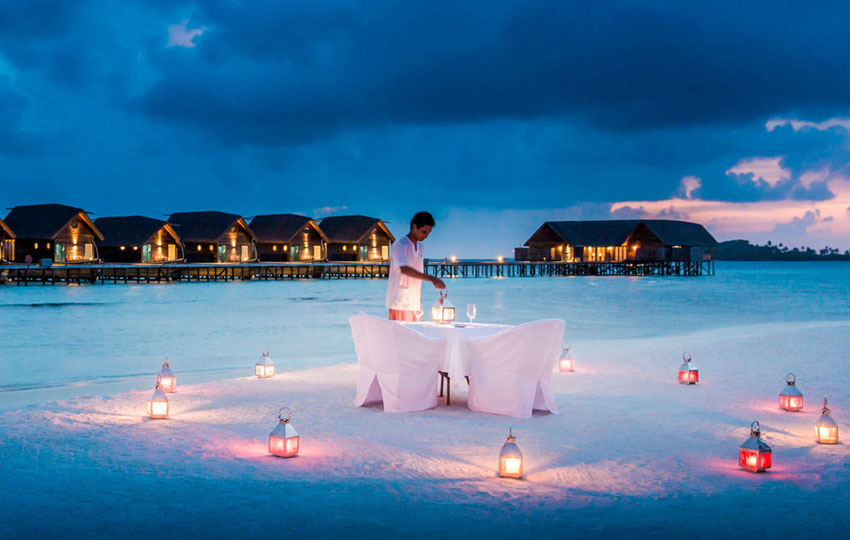 Cocoa Island by COMO is one of the best luxuries resort to stay in Maldives and feel the royal vibes. This resort is known for its intimate private feature with 33 overwater suites which help you to explore an exceptional house reef. To feel the romantic vibes around you, then you must visit Biyadhoo Island with your loved ones.
Biyadhoo Island
This island comes among the list of best things to do on your honeymoon to make it a memorable one. Biyadhoo Island is located in the south male atoll area so it's easy for you to also explore south male atoll attractions.
Cocoa Island by COMO Price for Two: from INR 80,000 per night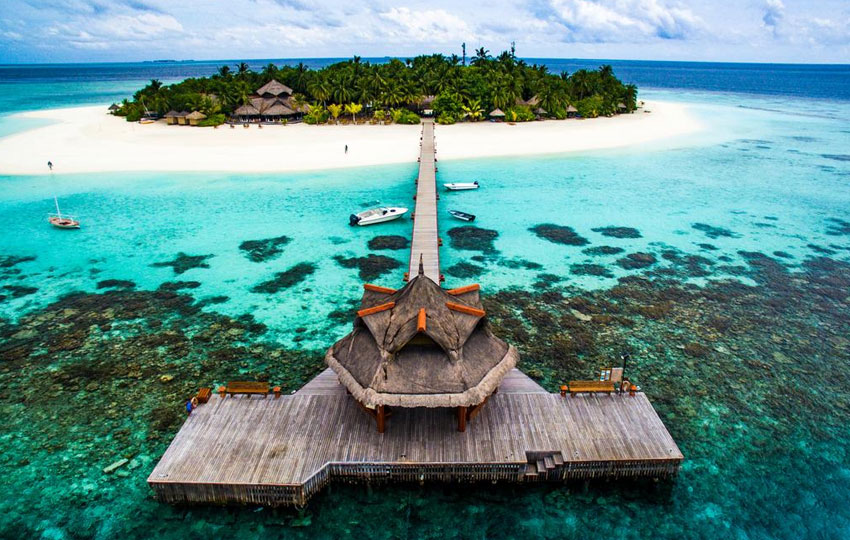 Looking for a resort with a beautiful view then Banyan Tree Vabbinfaru is one of the best picks for you to spend your honeymoon vacation to the fullest. Banyan Tree Vabbinfaru is located at north male atoll, that means you can also explore the nearby north male atoll attractions. The surrounding is full of coconut trees and mesmerizing tropical flowers that makes the place more attractive for couples to get down to absorb the beauty.
Baros Island
Love to setback and get sunbath and feeling water sounds then Baros Maldives place is the best for you to visit with your loved ones and free yourself to sun-kissed beaches. You don't have words to express the natural elegance of the place once you see it. Don't miss the chance to experience snorkeling and scuba diving with your better half in Baros island.
Banyan Tree Vabbinfaru PriceFor Two: from INR 45,000 per night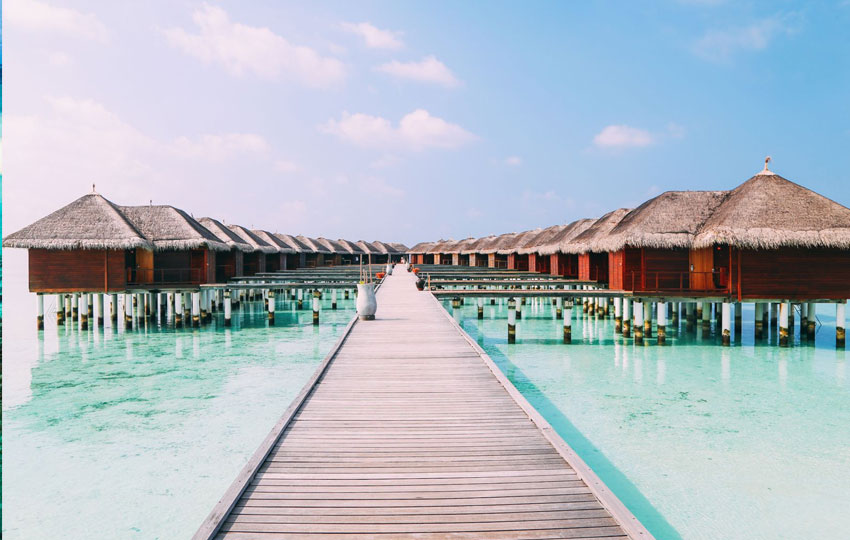 This resort is one of the best resorts in Maldives because of the view its offer to the tourists as well as to couples. You will get the staying between the wide beaches and beautiful lagoon which makes the place more romantic. You will also get a chance to experience the private reef for diving offer by the resort's diving center. Moreover, if you want to explore more nearby attractions then do visit Maafushi island.
Maafushi Island
To get the full vibes of beaches with a stunning mix of blue and white then Maafushi island is a must-to-visit place in Maldives for couples. You can also enjoy some water and fun activities here with your loved ones to get some beautiful shots to make it a memorable honeymoon trip for you and for your better half. Shark diving is one of the favorite activities for tourists to experience here, don't miss out.
Price at Maafushivaru Resort for Two: from INR 80,000 per night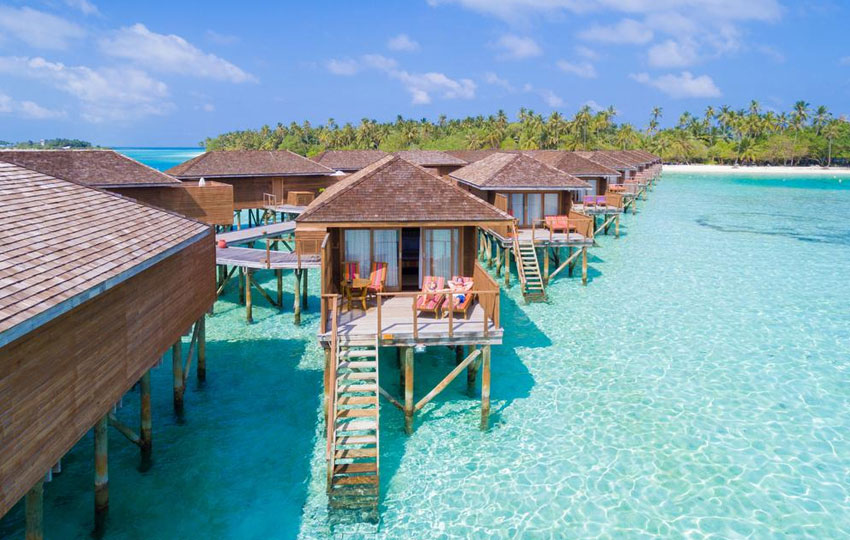 If you want to stay in a place where the crowd is lesser and then area opens up. Meeru island resort & spa is one for you. It offers a good space with peaceful surroundings for couples. You can also travel to nearby places like Fihalhohi Island.
Fihalhohi Island
This island offers a beautiful view with shady coconut palm trees, pristine beaches, and clear waters. Fihalhohi Island is a perfect place to visit if you are looking for a romantic getaway or planning your honeymoon trip. It also has a beautiful view as it surrounds with reef to abundance of marine life around houses.
Meeru Island Resort & Spa Price For Two: from INR 35,000 per night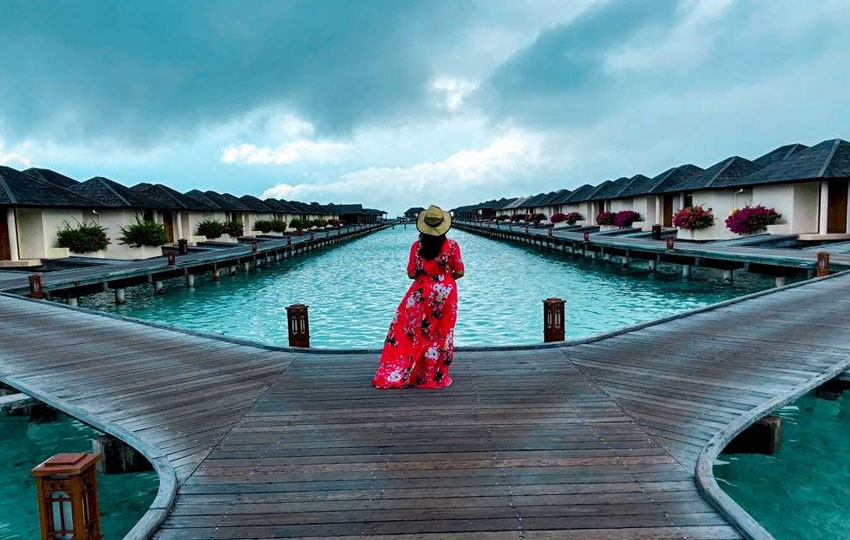 It is one of the luxuries resorts in the Maldives and located in the middle of the ocean. This resort offers the best surrounding with bright white beaches, a lagoon covered in deep blues and aquamarines, and soaring coconut palms swaying in the breeze. Don't forget to travel to the most famous places in Maldives like Banana Reef.
Banana Reef
It is located in north male atoll and one of the best diving sites well-known globally. Banana reef is the first diving spot in Maldives to proved by the authority. This reef has choc-a-block with exuberant marine life, fantastic corals, amazing cliffs, overhangs, caves and many more things to do for couples.
Paradise Island Resort Price For Two: from INR 18,000 per night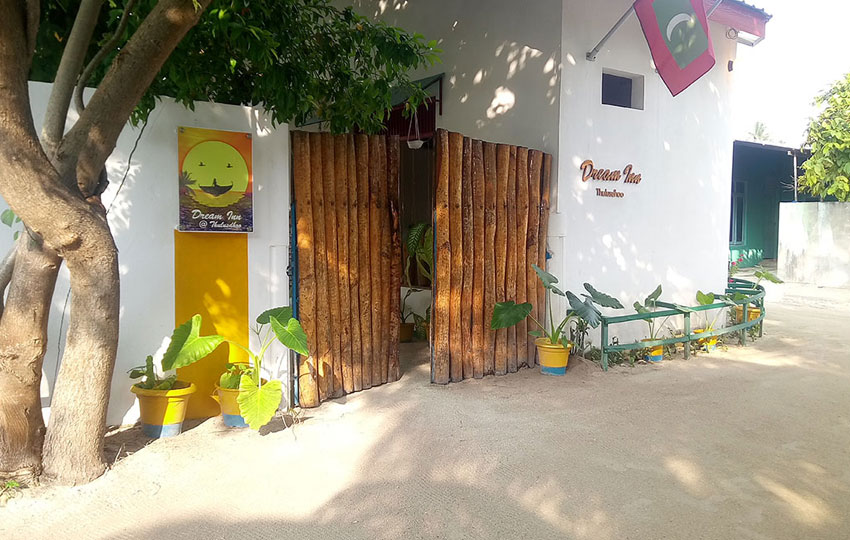 This place is famous among honeymooners because of the fantastic staff it offers to treat the couples. Dream Inn Maldives is one of the best Maldives resorts for honeymoon vacation. It also offers the cooked in-house which is delectable, custom made to suit your taste. If you are looking for a place to feel romantic vibes then don't forget to visit this place and experience amazing things around.
Thulusdhoo Island
It is one of the best islands to stay in Maldives for honeymooners to experience the swim in the infinity pool and scuba diving with feenaa diving. The best thing to do here is watching the sunset on the beach with your loved ones.
Dream Inn Maldives Pricefor Two: from INR 4,000 onwards per night
After listing the best islands and resorts to stay in Maldives. Are you ready to explore and experience the amazing and romantic Maldives Honeymoon Packages from India. So, what are you waiting for? Book your vacation with Sharp Holidays and make romantic memories with your loved ones for a lifetime.