Now flying to Sikkim is no longer an ordeal as one can now fly   directly to Sikkim Airport as now Sikkim has its very own airport about ten years later after the Cabinet Committee on Economic Affairs cleared the construction of the Greenfield airport at Pakyong in Sikkim. This foundation stone of airport was actually laid in 2009 which because of some contention over land acquisition, the project kept on delaying. PM Narendra Modi inaugurated an aerodrome on Monday i.e., August 24, 2018.
When is the First Commercial Flight going to Start?
The first ever commercial flight is going to begin from Pakyong  in the first week of October, i.e., October 4 and would be under the Union Government's UDAN (Ude Desh Ka Aam Nagrik). The airline operating this would be Spice jet that will have a 78-seater Bombardier Q400 flights that would make the passengers travel around Kolkata, Guwahati and Sikkim. Also, if there is no availability of flights, the people of Gangtok  will fly to the nearby Bagdogra Airport that is in the Siliguri district of West Bengal.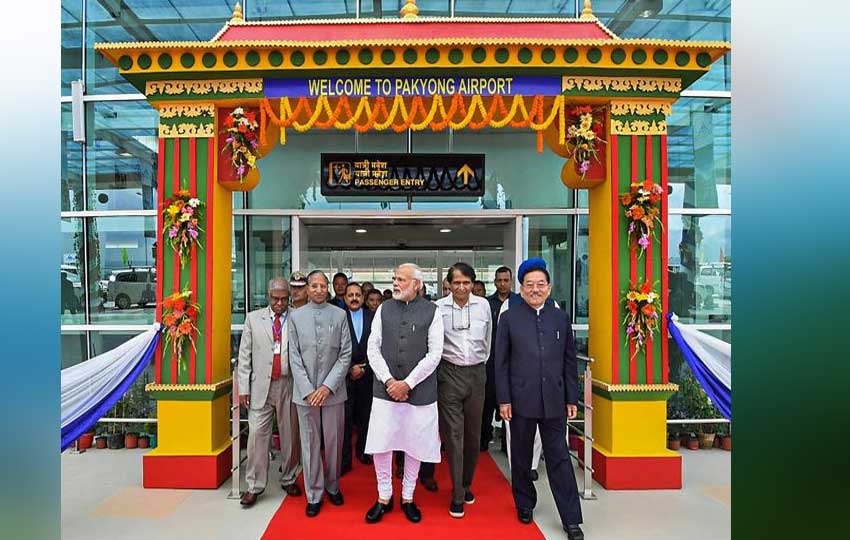 As it was talked about by the Chief Secretary of Sikkim, Mr A.K. Shrivastava, this Sikkim airport will have a  lot of exciting features such as Two sophisticated CFT, High-intensity runway lights, One terminal building for passengers, Parking facility for 50 vehicles, An ATC tower-cum-fire-station etc. Also, this airport is just 60km away from Indo-China Border. Also, this airport is constructed by the AAI and involved the cost of more than INR 600 crore and happens to be placed at the height of 4,500 feet from the sea level. The runway of the airport will be 1.75 km long and will have the width of 30 meters. Along with that, there is going to be a 166-meter long taxiway that is going to connect this with an apron by 76 meters which will also accommodate two ATR-72 aircraft. Also, the reinforcement wall of the airport project is going to be 80-meter-high which happens to be one of the tallest in the world.
Thus, after the construction of this functional airport in Sikkim, there has been a major boost given to work towards the infrastructural connectivity in the North Eastern region of India.  Also, this will mean a lot of tourism and economic development for Sikkim.