In Manali, you will get to experience so many things as it is covered with river valleys. It is also one of the best hill stations in India for travelers. And hot favorite destination for honeymooners. Here in Manali you can enjoy staying in hotels with a beautiful and mesmerizing views from your room or balcony. This place is best for solo travelers as well as for groups. Likewise, you will definitely be able to see more couples around you feeling the vibes and relaxing. The valleys of gods is also known for gorgeous hill stations and many more things.
So, here is a list of some of the best places to visit in Manali and how to reach Manali attractions without facing any difficulties on the way.
Must Read Also: Top 12 Things to do in Manali for an Unforgettable Trip
How To Reach Manali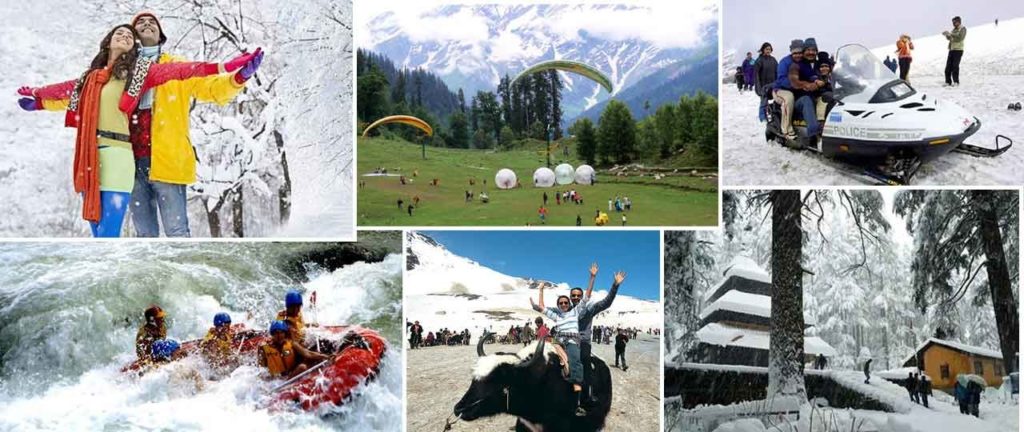 You can reach Manali by 3 modes of transports namely by air, by train and by road. But, the best way to reach Manali is by road. Since most of the travelers visit this beautiful place by bus and car so here is the Manali travel guide.
By Air: You can reach Manali by getting down to the airport named as Bhuntar airport. From this airport to your destinations is about 50 km. It will take around 1-2 hours to reach Manali.
By Train: This mode of transport is the best way to reach Manali directly. You can take a bus or car to reach Manali. The distance is around 534 km and it will take 12 to 13 hours to reach the destination to explore around.
By Road: Since Manali is a hilly region so there is no railway station in Manali. But you can enjoy your journey from Delhi to Joginder nagar which is about 126 km away from Manali. Either get down to Pathankot from Delhi which is around 285 km. It will take 8 to 9 hours.
Distance of Manali to these Cities
Shimla Distance : 7 h 44 min (247.4 km)
Dharamshala Distance: 7 h 9 min (218.5 km)
Kasol Distance: 2 h 20 min (74.9 km)
Dalhousie Distance: 10 h 17 min (325.9 km)
Khajjiar Distance: 10 h 46 min (335.7 km)
Best Time To Visit Manali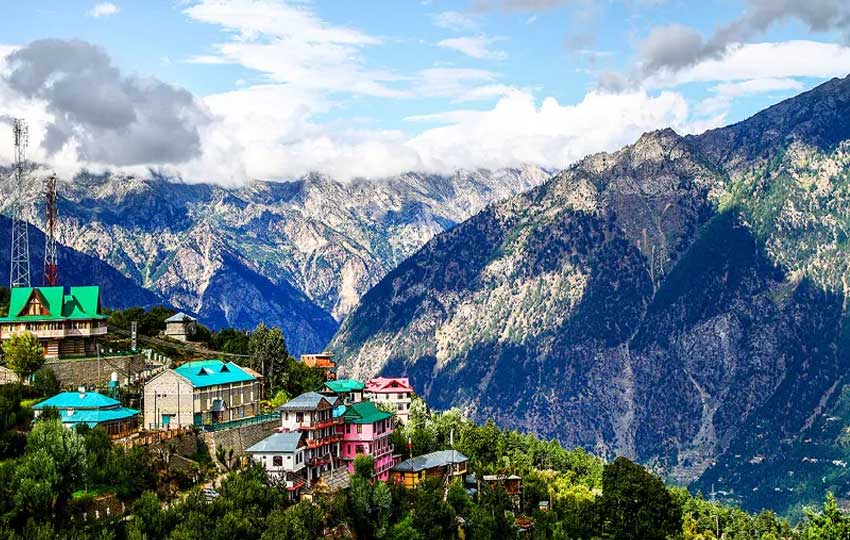 The best weather in Manali to explore is the winter season from October to February. And if you love to be around snowfall then January month is for you to visit Manali and explore the beautiful valleys around you. However, there are 3 seasons to get down to Manali as follows:
Summer Season (March to June)
In this season, the climate is between temperature 10 to 25 degrees. Travelers who love to trek and make the trip more adventurous preferred summer season as you can enjoy activities with pleasant weather.
Winter Season (September to February)
In this season, the temperature goes below -1 degrees. So, if you love the snowfall then you must visit Manali in winter. Since, you can experience the snowfall and mesmerizing beauty of this place. From September to February Manali feels like a paradise with a beautiful view of the mountains covered with thick snow.
Monsoon Season (July to August)
This season is known for heavy rainfall cause of it tourist faces landslides. And most of the roads are blocked which might lead you not to explore more. That's why monsoon season is an off-season for tourists. But you can get the benefits of booking at the cheapest price.
Manali Tourist Attractions
1. Hadimba Temple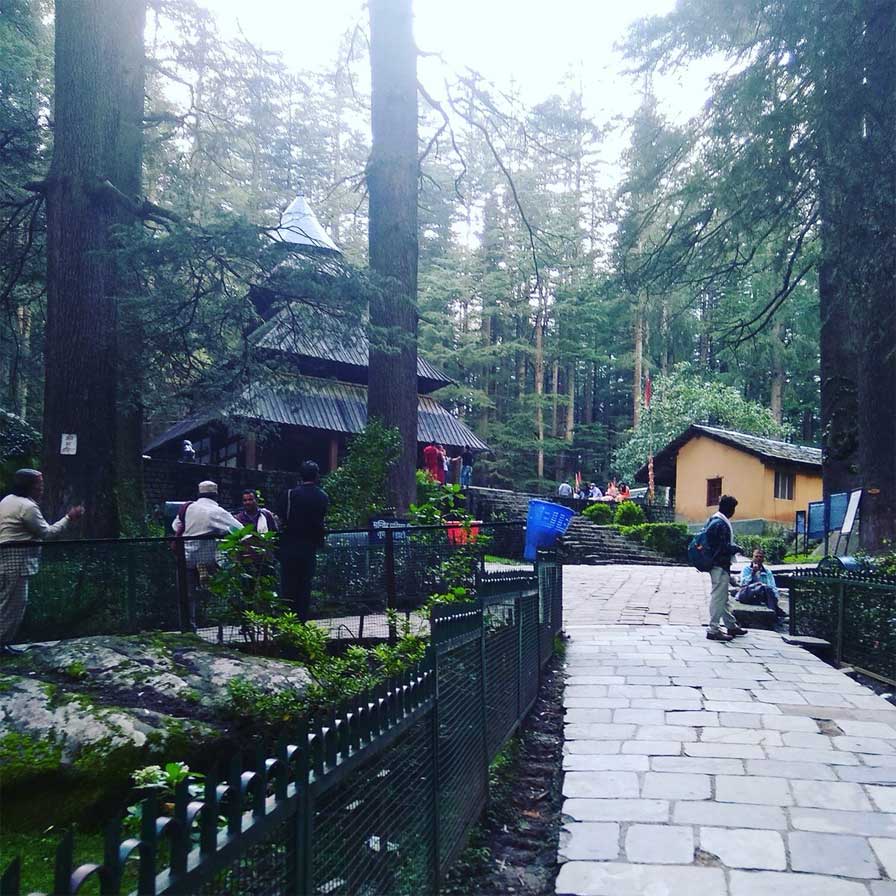 It is one of the best places to visit in Manali. Hadimba Temple is like an ancient cave temple and surrounded by forest. You can visit this place in the early morning to feel peach vibes around you and explore more. Moreover, if you like to trek then visit nearby visit by trekking through Manali travel guide.
Opening Time: 8 am to 6 pm
Things to explore near Hadimba Temple
Museum of Himachal Culture & Folk Art
Ghatotkach Tree Temple
Siyali Mahadev Temple
Vashisht Temple & Water Springs
Hampta Pass
Gadhan Thekchhokling Gompa Monastery
Spa Magnolia
Rahala Falls
How To Reach Hadimba Temple?
By Train: You can reach the temple by getting down to Joginder Nagar railway station from where the temple distance is around 2 km. After that, you can take a cab to see and explore the temple. But it is advised you to trek to the temple to experience some amazing things while trekking.
By Road: Hire a cab from your hotel to reach Hidimba temple and explore beautiful forest views around you. You can also walk to the temple as the distance is around 2 km from Manali.
2. Club House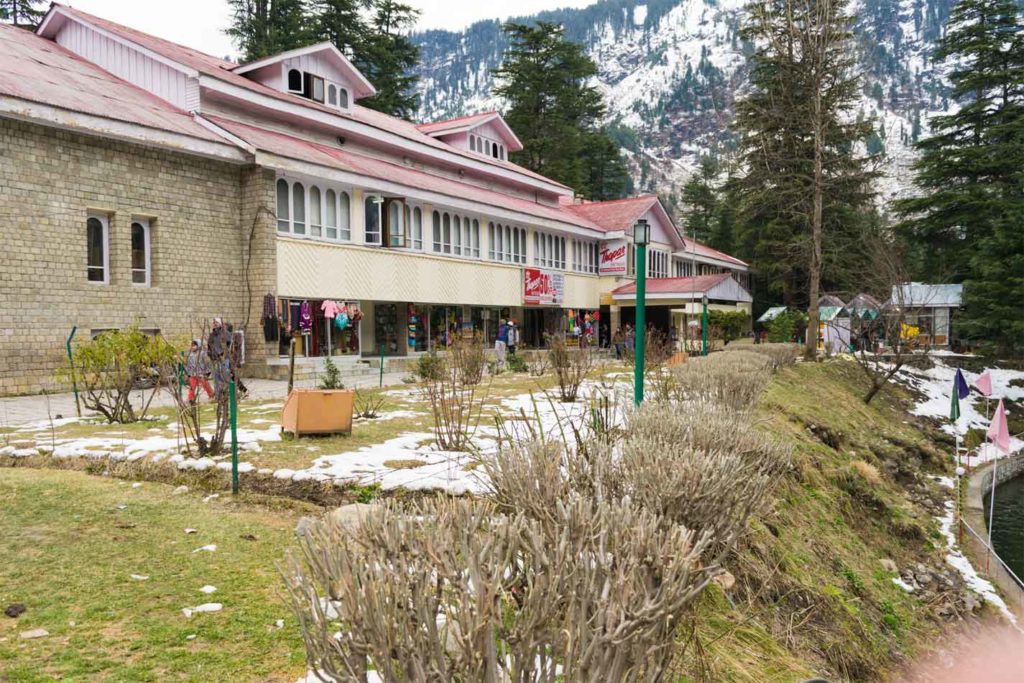 To experience some adventure activities in manali then you need to visit the clubhouse which around 2 km. Clubhouse is situated on the left bank of river Manalsu Nallah. You can also shop at Manali clubhouse at decent rates for beautiful handicrafts.
Opening Time: 10 am to 8 pm
Entry Fee:
For adults: Rs 25 per person
For kids: Rs 10 per person
Things To Do in Club House
Indoor Activities
Outdoor Games
Entertainment
Restaurant and Bar
Shopping
How To Reach Club House?
The best way to reach here is by road, you can take local transports such as taxis and auto-rickshaws which are the best option. You can also hire motorbikes to reach club house Manali and explore with your group.
3. Manu Temple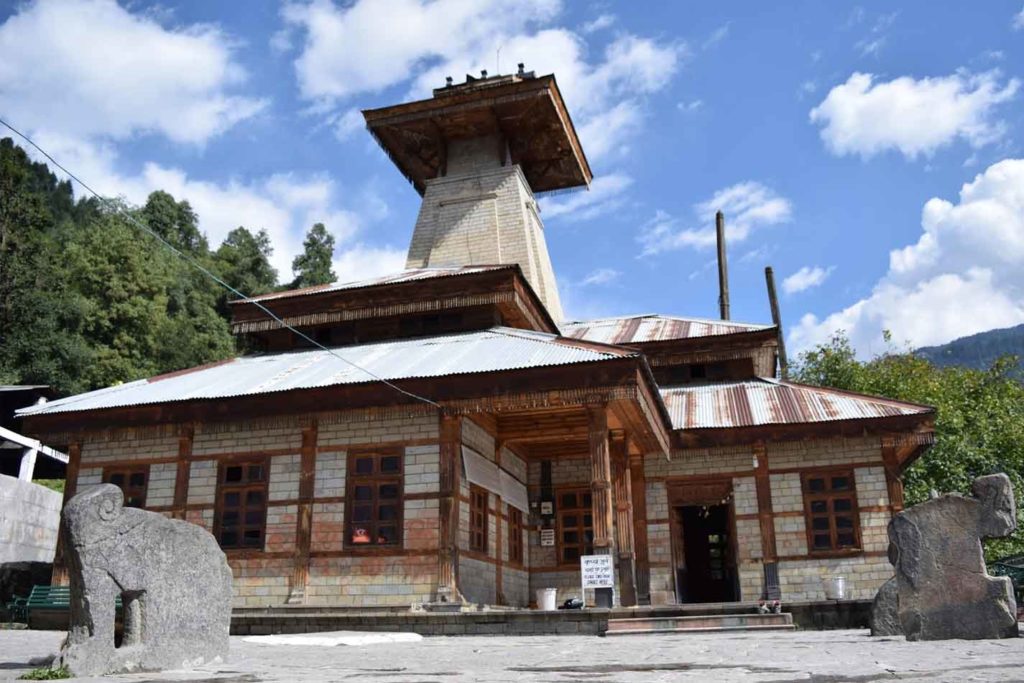 This beautiful temple dedicated to saga manu and situated in valleys of Manali. Manu temple lies in Beas river valley in Kullu and it is about 275 km from Shimla. The place is famous for beautiful views and mountains around you.
Opening Time: 6 am to 5 pm
Things To Explore Near Manu Temple
The Healing Network
Guru Ayurvedic Massage in Manali
Gadhan Thekchhokling Gompa Monastery
Rahala Falls
Spa Magnolia
How To Reach Manu Temple?
By Air: You can take flight to Kullu Manali Airport in Bhuntar. From airport to Manu temple distance is around 55 km. After that, you can hire or rent a cab to reach Manu temple.
By Road: You have two options to reach the Manu temple either from the railway station or by cab or taxi from your hotel in Manali. To reach there by train, then you need to get down to Joginder nagar railway station. And the distance between Manali to station is around 165 km. Then, take a taxi to reach the temple.
4. Solang Valley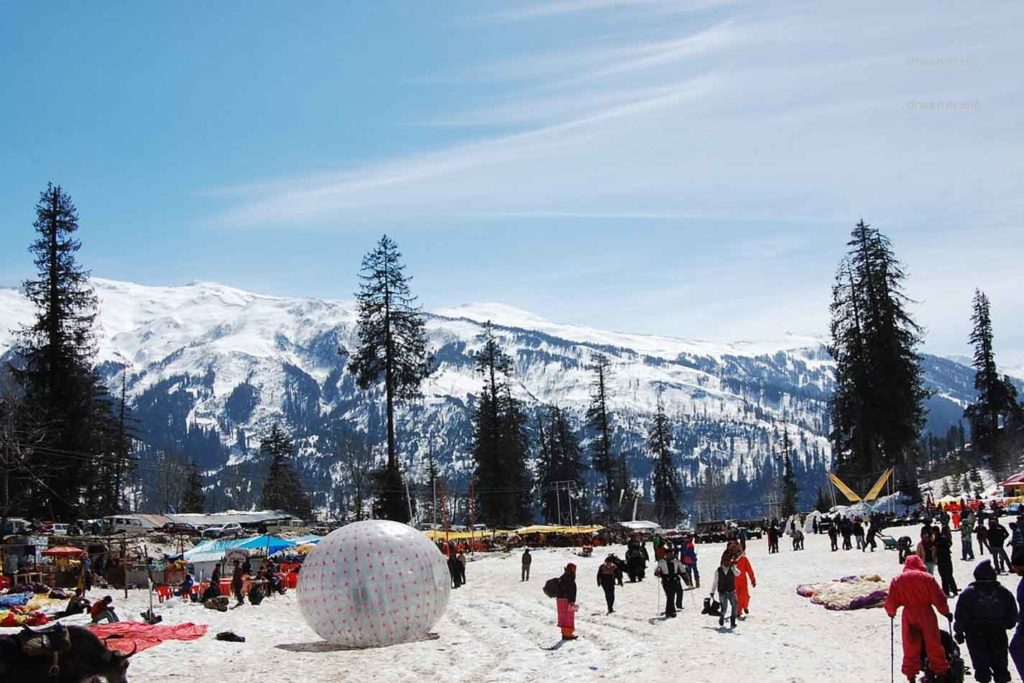 This place is one of the favorite destinations for paragliding and many more adventurous activities. Solang Valley is also known as snow point of Manali. You can definitely enjoy the experience of viewing beautiful surroundings around you. Solang valley is a must-visit place if you are visiting Manali on a vacation then Manali travel guide seriously help you to navigate. 
Opening Time: 9 am to 6 pm
Things To Do in Solang Valley
Skiing
Photography
Trekking
Jeep safari
Zorbing
Solang Nullah
How To Reach Solang Valley?
By Air: Get down to the nearest airport which is situated in Bhuntar. From where, you need to take a cab or taxi to reach Solang valley.
By Road: You can also reach this beautiful place by hiring a cab. Either go by bus of Himachal road transport corporation. The best route to visit Solang valley is through NH21 which connects the Manali from Chandigarh and Delhi.
Must Read Also: Everything you need to know before planning a Manali vacation
Frequently Asked Questions
Q. Which month is best to visit Manali for snowfall?
Ans. Winter season is best to experience snowfall from September to February. But to experience heavy snowfall then you should visit Manali in January month.
Q. What is the best way to reach Manali from Chandigarh?
Ans. The distance between Chandigarh to Manali is around 293 km which takes 8 to 9 hours to reach your destination. So, the fastest way to reach is by bus of state transport Bus. But, you can travel by your own convenience whether it is car or bike with help of Manali travel guide.
Q. Which is the best way to reach Manali from Mumbai?
Ans. There is no direct flight or bus to reach Manali from Mumbai. You need to take flight from Mumbai to Chandigarh and then take the bus to Manali.
Q. What is the distance between Chandigarh to Manali by taxi?
Ans. Chandigarh to Manali distance by road is around 307 km. It will take 8 hours to cover up.