Malaysia is one of those paradisiacal lands that one can visit on a trip to Malaysia that will totally win your heart and give you some of the best moments that will last you for a lifetime. There are several things that seem to be the best when they are dine with family, traveling is one of those things that is the best when done with family, Malaysia is one of those places that will totally lift your spirits and guarantee you a gala time as you enjoy a Malaysia Tour packages with Family.
Top 8 Best Places to Visit in Malaysia
1. Petronas Twin Towers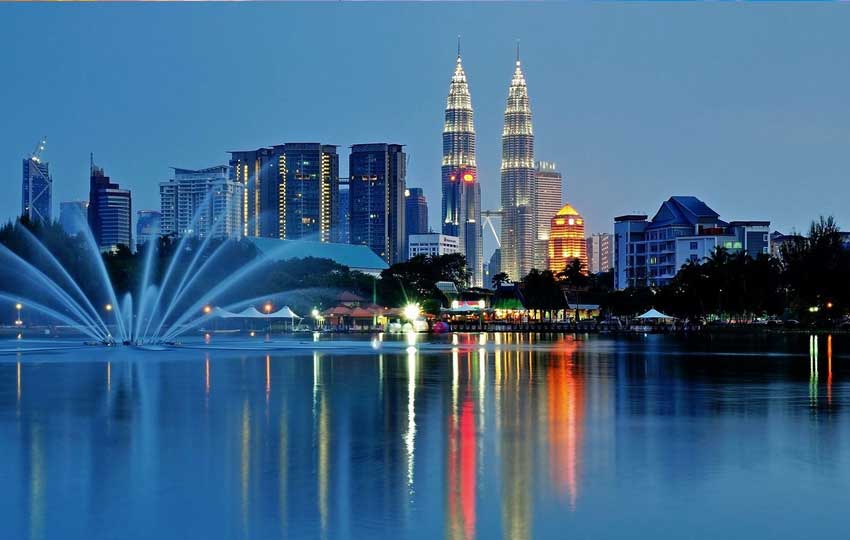 Being touted as the World's famous and tallest architectural pieces, this one is a total delight for all the tourists and happens to be the headquarters of Petronas that is the national petroleum company of Malaysia. One can have a great time at this amazing place in Malaysia that can be visited on Kuala Lumpur tour packages from Hyderabad.
These towers happen to be 88 stories high and are similar to each other and have a pyramid-shaped top that happens to be fitted with a slender steel spire. One can see the 41st and 42nd floor of the towers that happen to be connected via a sky bridge that lets people travel within the towers.
One can also find several complexes, shopping malls, food courts etc inside the tower that is a delight for the tourists. Also, one can enjoy the gorgeous skyline of the city from the top of these towers.
2. Islamic Arts Museum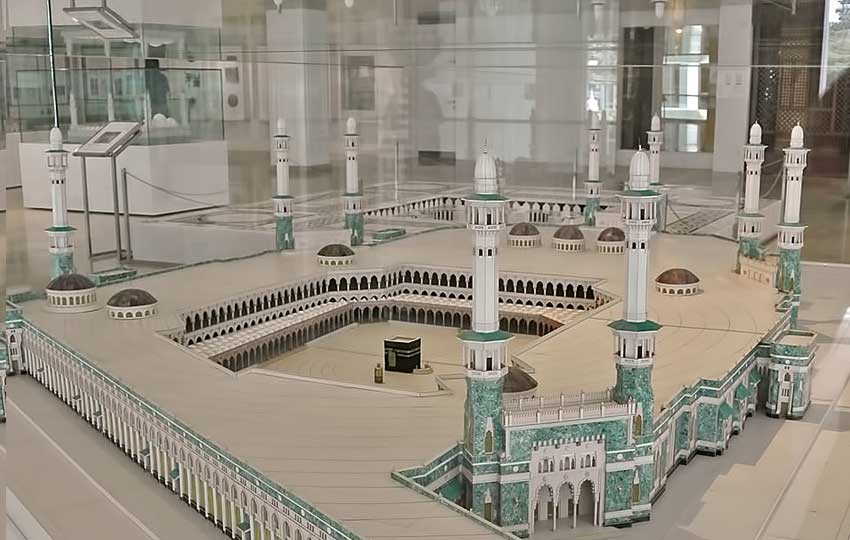 Well, to know a place, it is highly important to visit the museums of that place as one can get to know a lot about the art, history and culture of that place through the museums of that place. We would highly recommend you to visit the famous Islamic Arts Museum that is a great way to get to know about the art of Malaysia that is in Perdana Botanical Garden. Also, you should know that this one happens to be the largest Islamic Art Museum in South East Asia that you can enjoy on Malaysia sightseeing tours. Other than that, there are approximately seven thousand artefacts that will let you witness the Islamic world. Other than that, there are 12 galleries that can be found in this museum. These galleries are further divided into groups based on their levels.
[ Must Read Also: The Most Beautiful Places to Visit in Malaysia That Will Charm You Beyond Measure!]
3. Langkawi Cable Car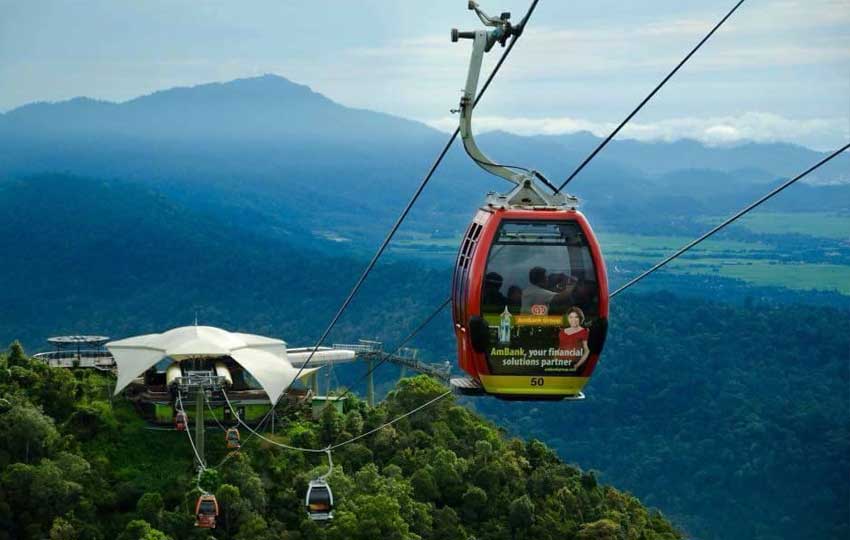 This is one major attraction that one can find in the famous Langkawi Island. This one is also known by the name of Sky cab. One can enjoy a ride while being on the top of Mount Chinchang and enjoy some enchanting views. One can also visit the famous Oriental Village shopping zone that has an enchanting mountain backdrop and also houses a beautiful lake on a Malaysia tour with family.
After one reaches the Oriental Village, one can enjoy a gorgeous view of Mount Mat Chinchang Hill while being in a cable car and enjoy the most splendid views of the highlands and enjoy the best of cuisines as you enjoy dining at various options that you get here.
4. Langkawi Sky Bridge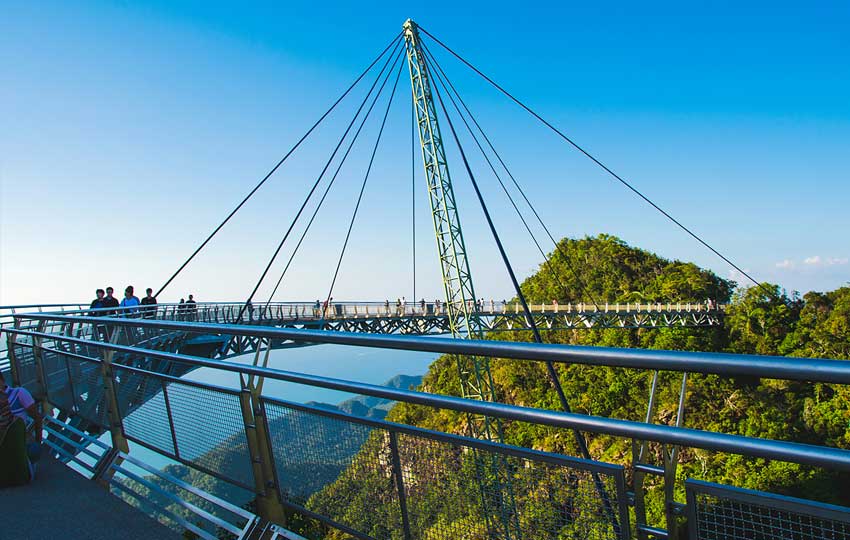 Langkawi Sky Bridge happens to be the longest free span bridge in the world that has the height of 410 feet, one can see this bridge being suspended from a height of 82 meters by a single Pylon and happens to be 2,300 feet above the level of the ground on Malaysia tours from India. This one is much different from the straight bridges as this one is curved so that the tourists can get a better view. It is said that this bridge was first constructed while being on the ground and after that, this bridge got then lifted through various helicopters to the present position. This place is totally a delight for the photographers as one can enjoy the best of the tropical jungles as well as the pristine mountain Mat Cincang.
5. Menara KL Tower
Menara Kuala Lumpur Tower happens to be a 421m high broadcasting and telecommunication tower that happens to be one of the best places to visit in Kuala Lumpur. One can have a great time at the observation deck that happens to be inside the famous Menara KL tower that is an amazing place to try sightseeing. Get the best of birds-eye view of the entire city.
Other than that, for food lovers, one can find the highest Mc Donald's outlet of the world. Other than that, this one also happens to be the fourth highest telecommunication towers in the world. This one is one of the most famous places to visit in Malaysia.
[ Must Read Also: 10 Best Things to Do in Malaysia ]
6. Sunway Lagoon Theme Park, Petaling Jaya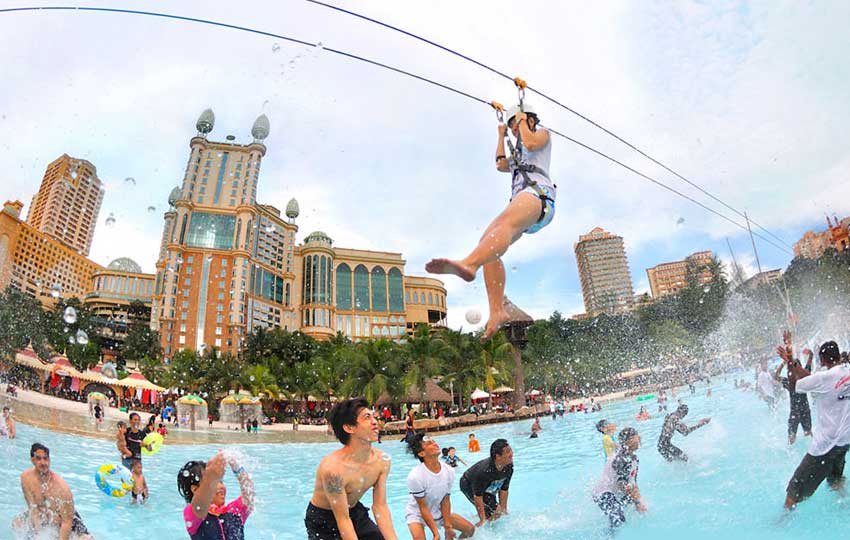 If you are thinking of going to a place that is hit with people of all age groups that will give you the best of fun and thrills. One can have a fun time in this Sunway Lagoon Theme Park in Malaysia that is a lot of fun. This place is a big hit among the tourists. One can find more than 80 attractions in this wonderful theme park that is wonderfully set up covering an area of 88 acres. This amusement Park happens to be segmented into five different areas named Amusement Park, Extreme Park , Water Park, Scream Park and Wildlife Park. Try the best of activities such as Little Zimbabwe, Colorado Splash, Surf Beach, Go Kart, Vuvuzela, Archery, Grand Canyon River Rapids, Captain Kids' Candyland, Wildlife Encounters, Bungee Jumping, etc on Malaysia family tours.
7. Aquaria KLCC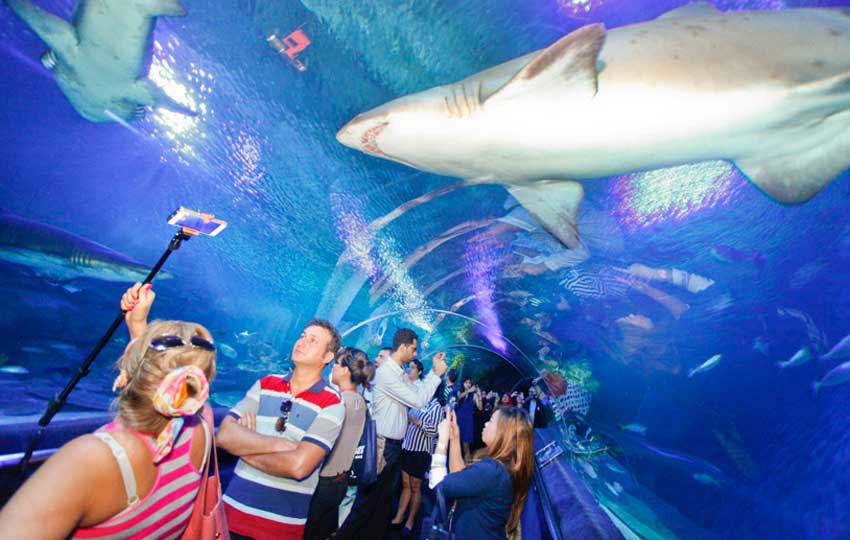 Aquaria KLCC happens to be the largest aquarium of the world that holds more than 5000 freshwater as well as marine creatures such as giant groupers, massive arapaimas, etc. One can enjoy the best of species here such as the bright coral fishes, seahorses, lethal sea snakes, scary tiger sharks, blue rays etc.
This is one of the major attractions to visit in Malaysia with families as one can have some great time with the kids here as they don't only get entertainment but also get knowledge being here.
8. Tunku Abdul Rahman Park, Kota Kinabalu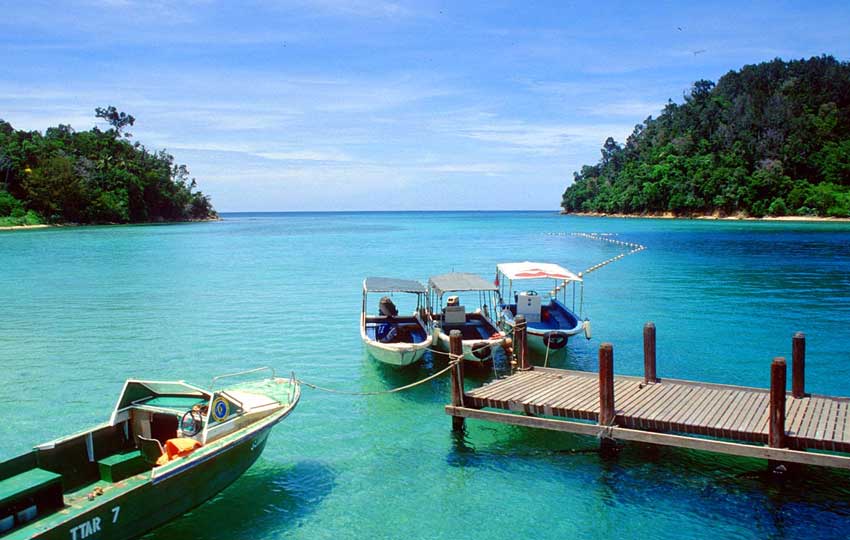 This one is actually a wonderful group of five different islands that is based in Malaysia named Pulau Manukan, Pulau Gaya, Pulau Mamutik, Pulau Sapi, and Pulau Sulug. One can try various beach activities in Malaysia while having fun in Tunku Abdul Rahman Park. However, make sure that you book in advance. Other than that, one can try some of the best water sports in Kota Kinabalu such as scuba diving, snorkeling, etc and fall in love with the gorgeous coral and marine life in Kota Kinabalu. Also, one can book the island tours here.
[ Must Read Also: Amazing Places To Visit On A Romantic Trip To Malaysia ]
How can you reach this stunning place?: One can avail the Jesselton Jetty ferry terminal that actually operates the boats to the Island that takes mere 20 minutes to reach Tunku Abdul Rehman on Malaysia tour packages with airfare.
Thus, these are some of the best places that one can visit in Malaysia with family as these places offer the best of family time and are truly the best of places that can be discovered with families to give you the best of times on Malaysia tours all inclusions.