Hong Kong is famous place that is known as the shoppers' paradise. One can try a lot of shopping being here in Hong Kong and find the best deals in this wonderful place. This place boasts of a great cosmopolitan culture that will give some of the best experiences for you granting you the best of culture and values along with the fusion of British culture and Chinese tradition.
Best places to have a fun time in Hong Kong:
Hong Kong Disneyland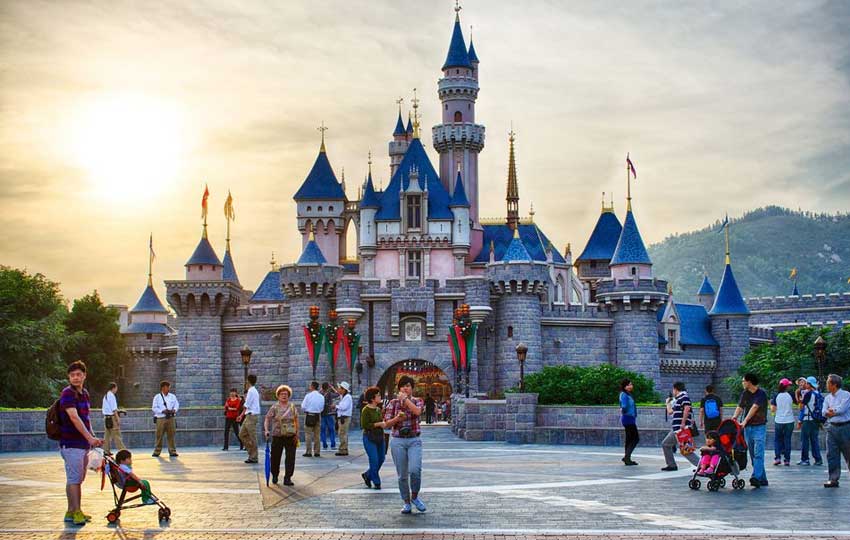 Well, your trip to Hong Kong is not even a trip if you don't visit Disneyland. This is the best place for kids and is a fantasy land for the kids that can be visited by Hong Kong Macau Disneyland packages. Enjoy the plethora of colours and the musical shows that will make you go gaga with joy trying out various amazing experiences that are no less than magical in this amusement parks. So be a kid again in this wonderland that will let you try everything in this theme park.
 Ocean Park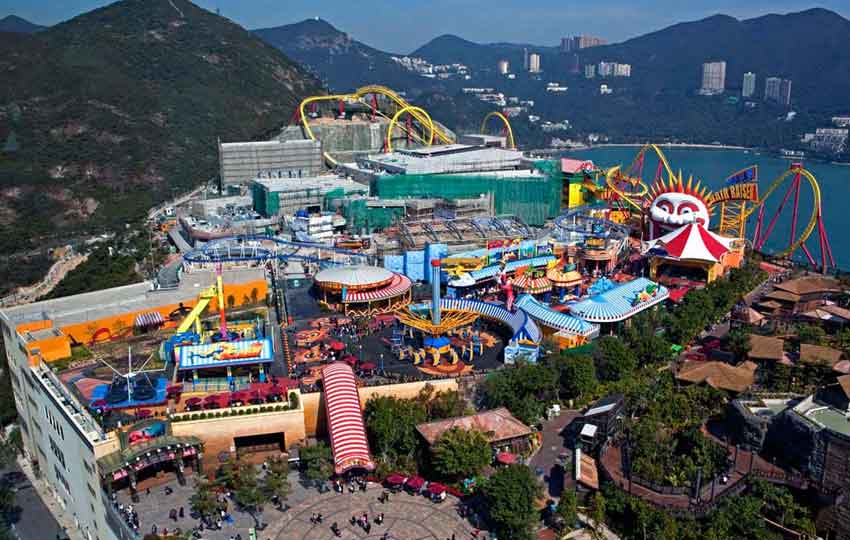 This is one amazing place where one can enjoy being in while in this marine-life theme park which is a great place to visit for kids. This is a great amalgam of educational exhibitions and interactive displays that one can enjoy in this water theme park. Also one can enjoy many shows and thrill rides making it a must inclusion in Family package to Hong Kong.
Hong Kong Wet Land Park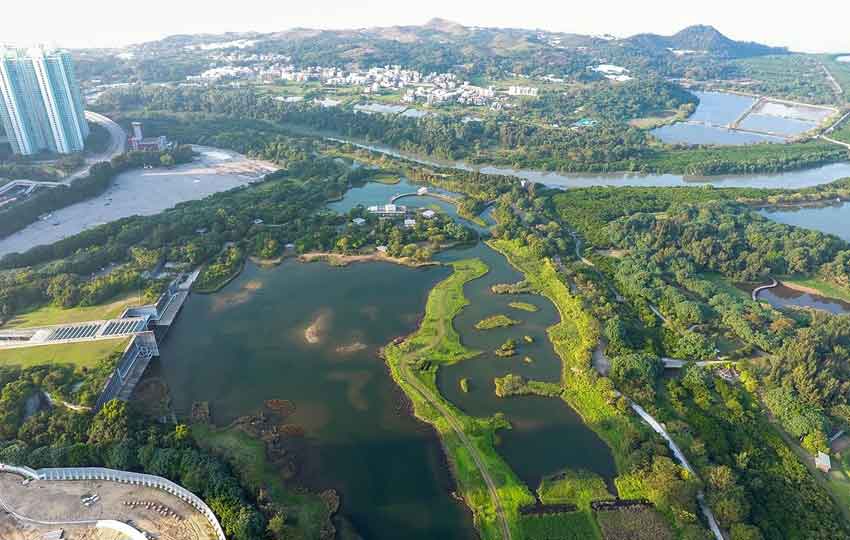 Hong Kong Wet Land Park houses a lot of reptiles, birds, mammals, amphibians, fish, dragonflies, butterflies, etc. One can find a lot of beauty and wonder in this famous place in biodiversity. This place promotes Eco-tourism and conserves the wetlands.
Victoria's Peak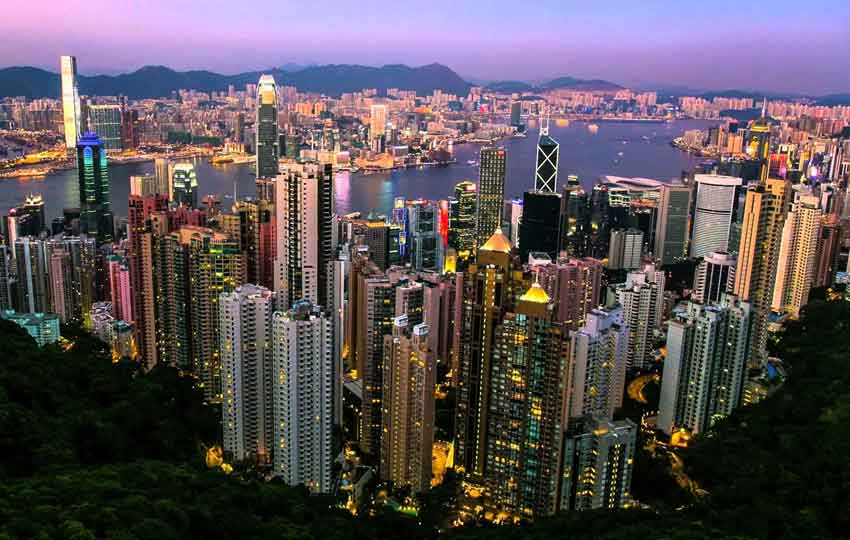 Victoria's peak is one of the most famous places to visit in Hong Kong. One of the most famous places in Hong Kong, The Peak is the highest one on the Hong Kong islands. You would be in for some breathtaking views with the high rise sky scrapers. Also visit the famous Madame Tussauds wax museum, the Peak Tower, Sky Terrace 428 that are nearby.
Symphony of Lights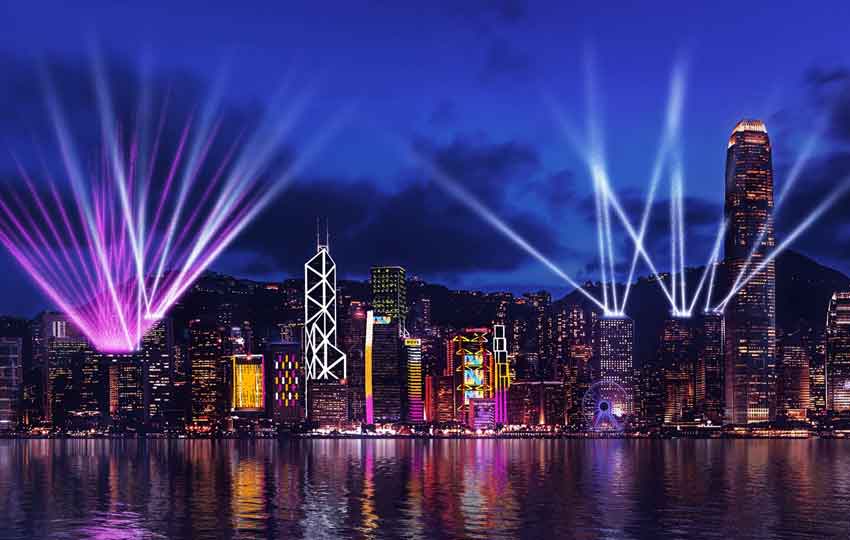 Symphony of Lights is one amazing place to visit in Hong Kong with Cheap Hong Kong Packages. Find the amazing display of colorful lights that reach out to the sky to the 40 skyscrapers that have wonderful music and narration all working to make this experience even more wonderful.  Witness the famous "World's Largest Permanent Light and Sound Show" being here.
 Lan Kwai Fong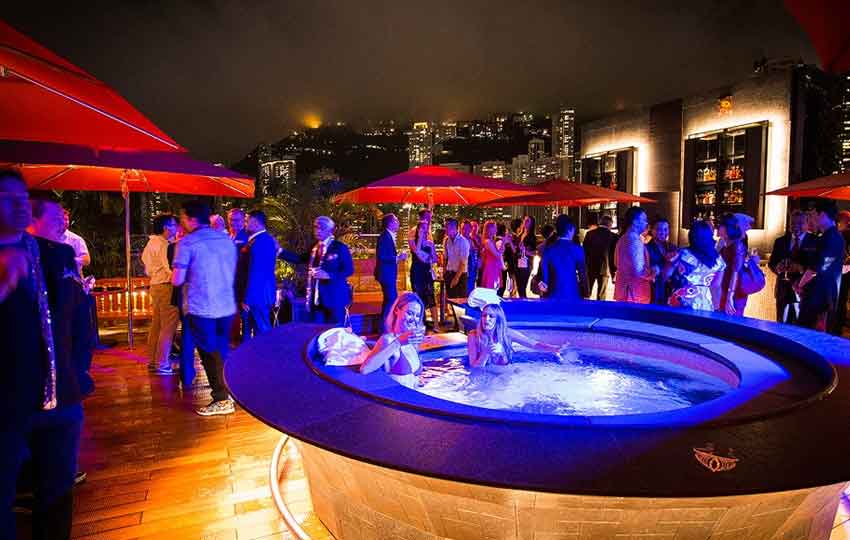 Visit the famous Lan Kwai Fong which is amazing to visit while being in Hong Kong. This is one of the best attractions for the young and hippie people of Hong Kong. There are many nightclubs and pubs that one can find being in Hong Kong. This place will offer you the best glimpse into the nightlife of Hong Kong.
Witness Macau for a wonderful vacation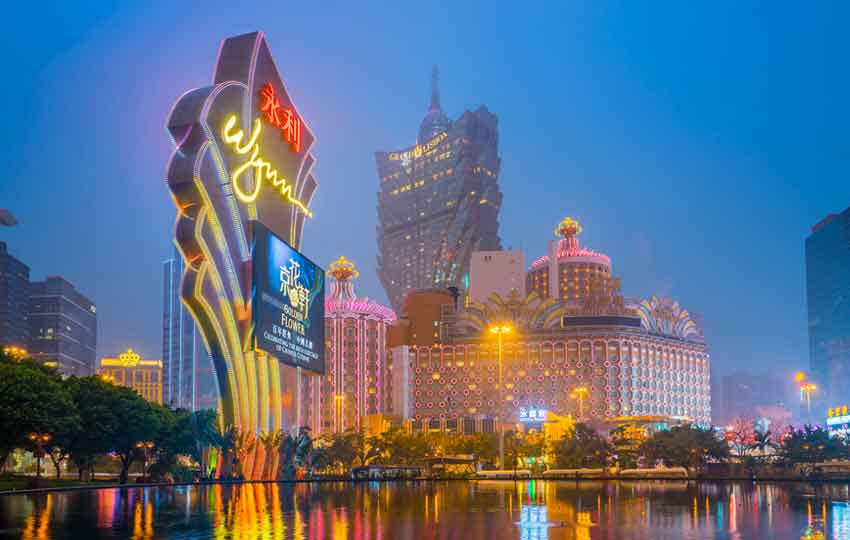 Macau is also famous by the name of the ' Vegas of China', this place is famous for gambling, glamour and also heritage, one can also enjoy a wonderful skyline while being in Macau.  This place is famous for entertainment options that one can find being there. 
Wonderful attractions of Macau to guarantee some amazement!
Visit the Ruins of St. Paul's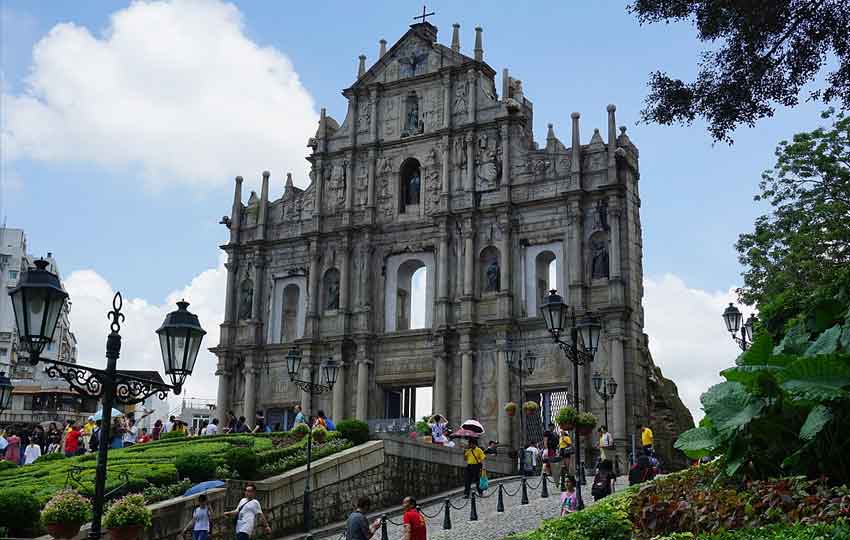 This would be your chance to visit the 16th Century and get back to the time. This place is also famous by the name of Sam Ba Sing Tzik. Visit the Ruins of St. Paul's which is near the Mount Fortress and also the Macau Museum. Being an important and really famous age-old structure in Macau, don't miss out on the famous Statute of Jesus and Madonna, find the walls being covered with bas-reliefs in numerous patterns such as the angels, signs of crucifixion, devil, etc.
Senado Square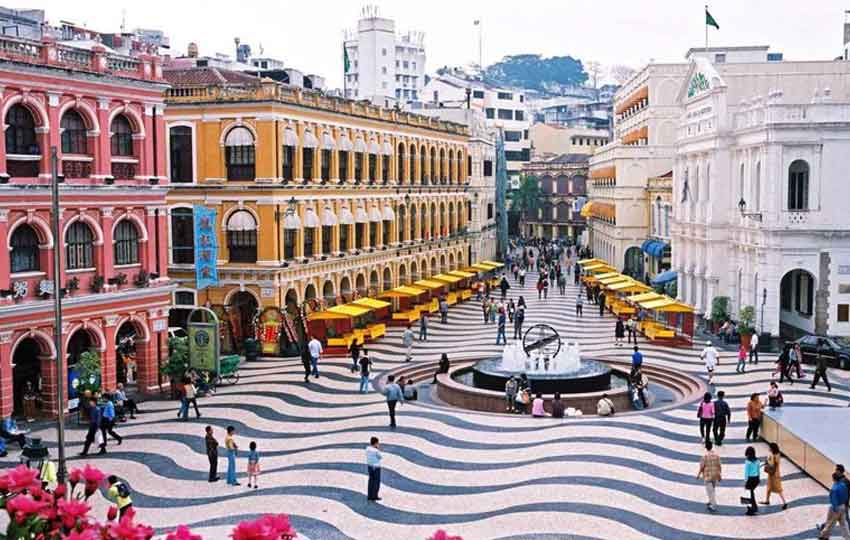 This is one of the most famous and happening places that also lets you a sneak peek into the history of Macau. This place is famous for the touch of history that you get being here. This place is always busy with tourists and locals that makes it a best place to visit in Macau. One of the best World Heritage Site, this is a great place where you would find many great parks, fountains, European buildings, etc. Also there are many festivals and events that happen in this place. This place is a sheer delight especially at the time of Chinese New Year.
The Venetian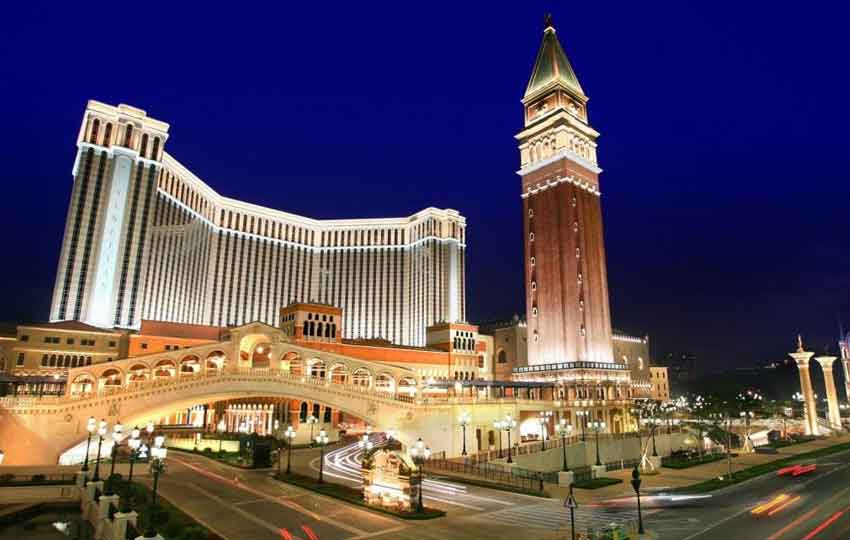 A wonderful place to remind you of Venice, Visit the famous Venetian where you can enjoy the best gondola rides as this place is wonderful to visit in Macau. Find the best style and Venice-themed hotel which is one great place to visit in Macau. Find the best places to live in while being here. Also, the Venetian has some of the best places to shop from while being in Venetian. There are also many great dining options that Macau boasts of while being here. Make sure to live your Venice fantasy being in a gondola ride and witness the resort canals that are under the painted sky ceiling, some great cabanas to enjoy a wonderful and luxurious poolside experience. Also this place has the biggest casino of the world to give you a great time.
Macau Tower
Macau Tower is the most famous and significant building in Macau. This tower gives a wonderful view of the city and one can enjoy the best views from here and be enchanted by the wonderful construction of this tower. Macau Tower is constructed by Gordon Moller, which is a famous place to visit in Macau. Find the best deals on the Customised packages for Hong Kong and Macau and witness the cafe, lounge, observation decks revolving deck, adventure zone etc being here.  Also, try the most adrenaline pumping activity being here while you climb the world's second highest bungee jumping base to enjoy.
A-Ma Temple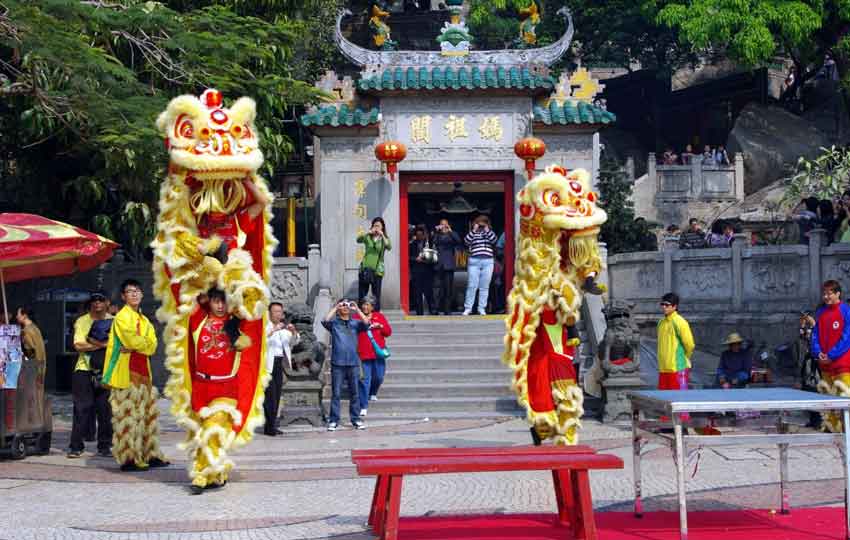 A-Ma Temple is one of the best temples for fishermen, this temple dates back to 1488. Chinese Goddess Matsu is the main deity that is worshiped by seafarers and fishermen.  One of the best places to visit in Macau, this place is said to be the inspiration behind the name of Macau as well. Be enamoured by the best decoration, architecture, design and style of this temple. One can find six sections in the temple with each one being spiritually significant.
Visit the Fisherman's Wharf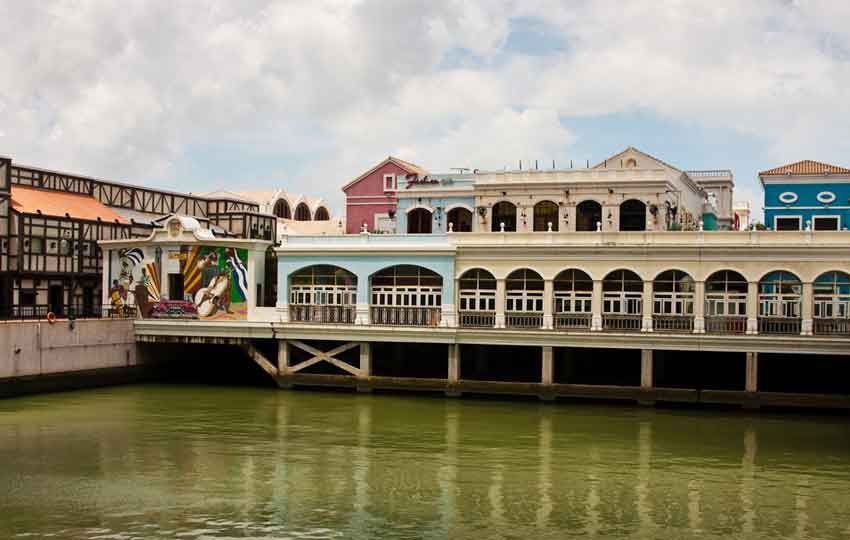 Well, you would have visited a lot of malls in your life but this one is pretty different from the rest as this is a fisherman themed shopping mall and park, which is inspired by the Euramerican fisherman's wharfs. Fisherman's wharf is across 28 acres and has three sections by the name of East Meets West, Legend Wharf, Dynasty Wharf. Witness the best Ramphitheatereatre, water Performance Arena, man-made volcano and waterfalls, Video Games Center, Arabian themed kids play zone and model battleship in Fisherman's Wharf guaranteeing a fun experience.
So, these are some of the best places waiting for you in Hong Kong and Macau that can be availed by Hong Kong Macau tour package from Ahmedabad letting you get some of the best deals and discounts as you enravel these best places in China that are as ethereal as a gem stone granting you a wonderful time and letting you enjoy the best of the best being here on a holiday to remember!