by: Urvashi Sharma
Kerala is the place full of beaches and backwaters which is the best to make your romantic Honeymoon Destinations in Kerala a memorable trip. Also, known for its hill stations and tea gardens which are perfect for couples to feel haven like view sitting in the backwaters boats. After knowing this much of information about Kerala.
Are you planning to book Kerala honeymoon tour package? Then why are you waiting to enlist the Best Honeymoon Places in Kerala to plan the best trip on a budget with sharp holidays. In this blog, we are explaining 6 romantic places to visit in Kerala for honeymoon. So, if you are puzzled while selecting Kerala honeymoon tour package. Then you must have to go ahead to read the post and get the idea which place to visit to make your trip more romantic with your loved ones.
Must Read also: [ The Most Magical Destinations in Kerala for a Blissful Honeymoon Experience ]
Top 6 Honeymoon Destinations in Kerala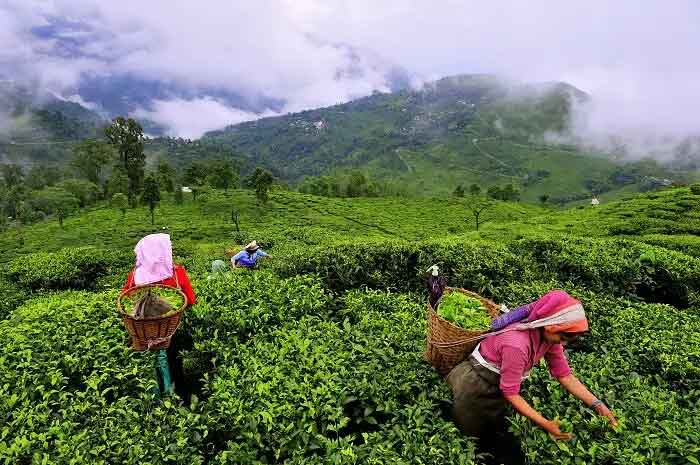 1. Munnar
This place is the breathtakingly beautiful hill station which is blessed with the beauty of nature of winding lanes. You can also experience the misty hills and forests around exotic plants and wildlife. Moreover, if you don't know the fact about Munnar that it rises three mountains namely mudrapuzha, nallathanni, and kundala. This place is also famous for boating in the tranquility of Kundala Dam. This is one of the best honeymoon places in Kerala to visit with your loved ones without thinking twice about your decision.
Best Time to Visit
There are three seasons to visit the place, but the best time to be there in the winter season for couples to enjoy to the fullest. Although, below mentioned season's months are best to explore on your honeymoon:
From September to November: Best to experience the misty weather around the land known as the god's own country.
From January to march: If you are looking to be around crowded with guests then it's your year's month to land on the god's own country as it is the season which all tourist attractions in Munnar city.
In December: This month is the peak monsoon time to visit the Munnar for couples on their honeymoon.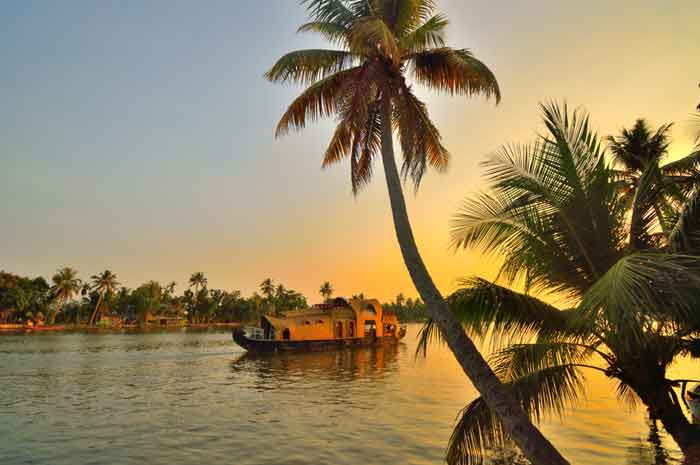 2. Alleppey
It is famous for the houseboats and backwaters. To explore the beautiful view of Alleppey through your cruise board is bliss. But, the mesmerizing backwater's views can see only if you get on the houseboat. You can also experience the beautiful view while passing through the canals and rivers of Kerala god's own country. And able to see these places through the boat namely Kuttanad like Kainakary, Arunootampadam, Kuppappuram, Kuttamangalam, Chennamkary, Meenapalli, Venattukad.
Best Time to Visit
You can visit any of the three-season in the year to explore the city with your loved ones in a peaceful and beautiful view. But if you want to know the details of the season and what is the best on that specific season then you need to refer to the below-given section which describes the season in brief bullet points:
From November to February: To experience mild and pleasant weather you should definitely visit the Alleppey in winters. As temperature in this time is in between 17-32 degrees Celsius.
From March to May: If you want to visit the Alleppey with less crowd then summer is the season for you to visit. But during this time you will usually get hot and dry weather and the temperature rises up even 37 degrees Celsius. But, you can get great deals on hotel rooms and save money.
From June to September: Love to be around monsoon season in Alleppey and then these months are a great time to enjoy this little town in its rain-washed glory. But heavy rain is frequent, so it is recommended that you carry the required elements to save yourself from rain showers.
Must Read also: [ The Most Beautiful Temples of Kerala for A Divine and Holy Experience ]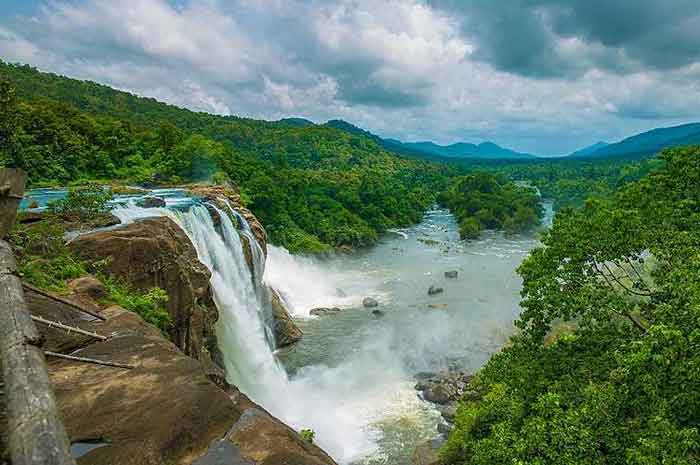 3. Athirappilly
This place is for honeymooners, as a tree house resort makes the place more seclusion with a beautiful view. Since the tree house facing waterfalls that provide unparalleled rumble, roar and views of waterfalls amidst the forests. You can also experience the disappearance of the waterfall at the end of the day as sunlight fades away.
Best Time to Visit
To experience the beauty of Athirappilly waterfalls, visit the place during the rainy season which is after the monsoon season.
From June to October: You can enjoy the best view of waterfalls during the rainy season. Do visit this place in between these months.
From November to May: To explore the city in winters with your loved ones and not like the rainy season, then these months are good to go.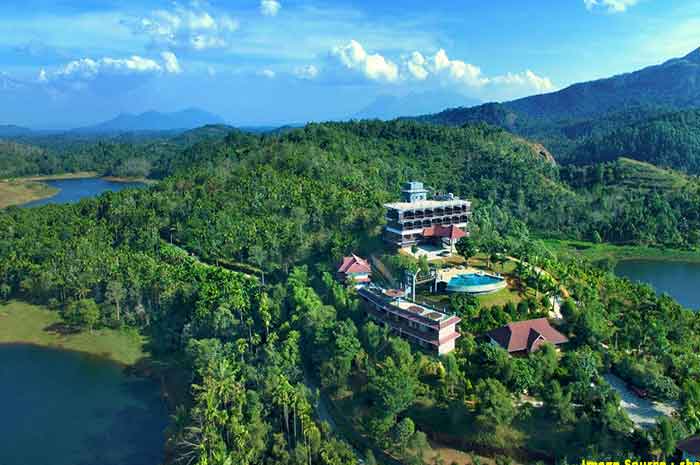 4. Wayanad
This place is famous for gleaming waters, leaf rustling, stunning sunrise, mesmerizing plantation, and perfect sunsets. Wayanad has some serious scenic appeal which is a prerequisite for any honeymoon getaway. It is one of Kerala tourist places which are specially recognized for Coconut palms, thick forests, luscious coffee and tea plantations carpet the landscape. Furthermore, if you are visiting the place then do not miss the Chembra peak view since Wayanad is a heart-shaped honeymoon lake.
Best Time to Visit
Wayanad has a good climate all through the year. But if you are planning to visit to get the best view then from October to May is the month to go.
From December to February: It is the winter season as the temperature goes down to 10°C, many honeymooners like this climate. Since, these months are ideal for sightseeing and other tourist activities.
From March to May: This season refers to summer. That usually hot but pleasant with the cool breeze from the nearby forest area, and is ideal for exploring the forest area. Temperature arise up to 36 °C.
From June to September: This monsoon season welcomes those who love to be around a warm environment. As maximum temperature reaching up to 36 °C. South-west monsoon and north-east monsoon are accompanied by heavy winds and rainfalls. Wayanad looks beautiful with average rainy days.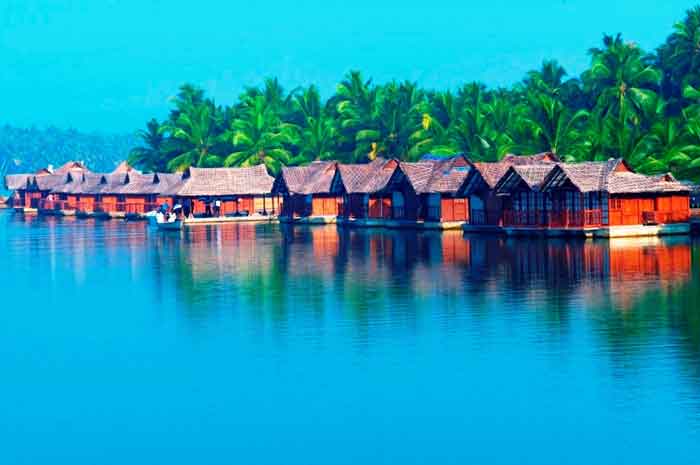 5.Poovar
If you are planning to visit the Poovar then do not miss out on a chance to experience the floating cottages. You can see the little balcony facing the backwaters after get into the floating cottages boats. Having an amazing view of the Poovar estuary where the beaches, backwaters, sea and lakes come together to create unparalleled beauty.
Poovar is at the conglomeration of the Lake, River, Sea, and Beach and the land. Poovar is famous for opening out to the sea, serene backwaters that are unspoiled and unexplored, and a dream golden sand beach.
Best Time to Visit
From November to February: Winter is the best season to visit Poovar. Since the temperature is pleasant for travelers. If you like visiting sightseeing then this season is also good for you to visit.
From March to May: Summer is not referred by honeymooners as the weather is really hot. Thus it is advised the visitors to avoid this season.
Must Read also: [ Top 5 Tourist Places in Kerala that You Must Visit ]
6. Ponmudi
You will lose yourself in Ponmudi with amidst lush mist-laden hills. If you love to trekking or hiker then this is one of the best places to visit in Kerala. You can explore more in this beautiful places with many narrow winding roads, the landscape of Ponmudi looks surreal. You can also see the tea gardens spanning all around add charm to its beauty.
Best Time to Visit
From December to March: Winter season is the best month to visit ponmudi as the hill station looks spellbinding with the shimmering waterfalls and variegated hills on the backdrop. The air is fresh and chill enhancing the beauty of the place.
From June to September: This monsoon season is best for those travelers who love rainfall. Since it happens twice a year. The weather is in favor of travelers as it so delightful, ideal to make a trip to relax and rejuvenate yourself. Also, a favorable time for Kerala tourist places for a romantic getaway.
From March to May: Summer season is a less favorable time to visit Ponmudi. However, it looks mesmerizing in summer with its lush green trees, enchanting waterfalls, and majestic hills.
Are you ready to travel in the beauty of Kerala, now? If a honeymoon trip to Kerala is all you've been waiting for, then we say it's time! No matter where you go these top 6 Honeymoon Places In Kerala will surely blow up your mind! Please share your experience and do let us know in the comments section below.
Leave a comment