Bali is one of the most fun places that one can visit for a great time. This is an ultimate destination that is to be explored with your friends by your side and having a beautiful time that will stay etched in your memories for times to come on a customized Bali vacation with friends.
Best things to try with friends on a Bali vacation
1. Pura Ulun Danu Bratan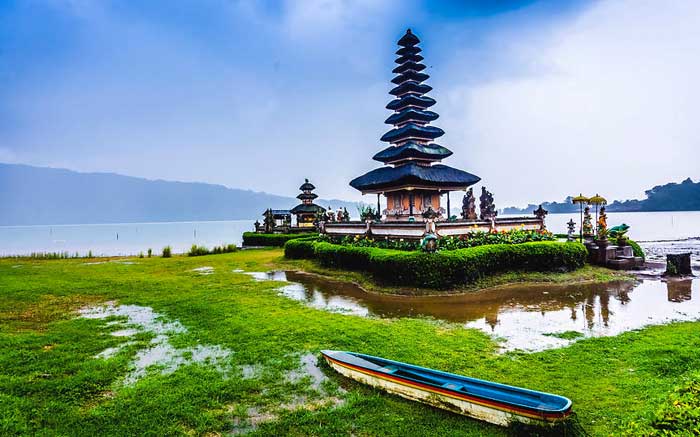 Pura Ulun Danu Bratan is one of the best places to visit in Bali, this iconic temple can also be traced on the Balinese currency notes. A really significant Hindu Buddhist temple, this temple is also known by the name of Bali temple on the lake or by Bali temple on the water as it appears to be floating on the water while you look at the water level being raised up in the lake.
A stunning sight to behold, this temple is now an incredibly famous tourist destination on your Bali holiday package all inclusive, one can also find many souvenir shops nearby to fill your bags with things to take back home.
Where is Pura Ulub Danu Bratan located? Pura Ulub Danu Bratan is located on the edge of the Bratan Lake in the Bedugul area.
2. Mount Batur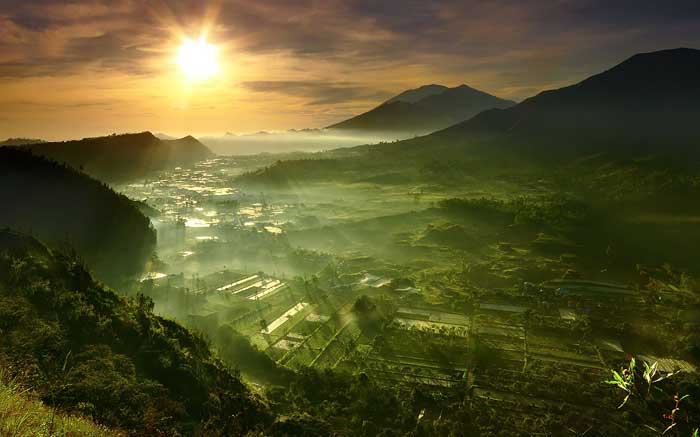 This one is a must visit if you are planning a trip with your friends, it is a must try thing in Bali as this is one of the best adventurous thing to do in Bali. This place welcomes the trekkers to gorge on the most beautiful sunrise from the top of the volcano. One can have the most gorgeous sunrise trek where you can enjoy the most beautiful mountain views and witness the most stunning coffee plantation views being here. Also, when you reach out to the top, you would witness many small street vendors that will be selling you hot drinks as well as famously fried bananas.
Tips while trekking Mount Batur: Get yourself a tour guide, make sure to wear comfortable clothes and make sure to wear good trekking shoes and also carry a camera as the sight is totally breathtaking.
[ Read Also: Best Foods You Must Eat In Bali ]
3. Bali Safari and Marine Park Gianya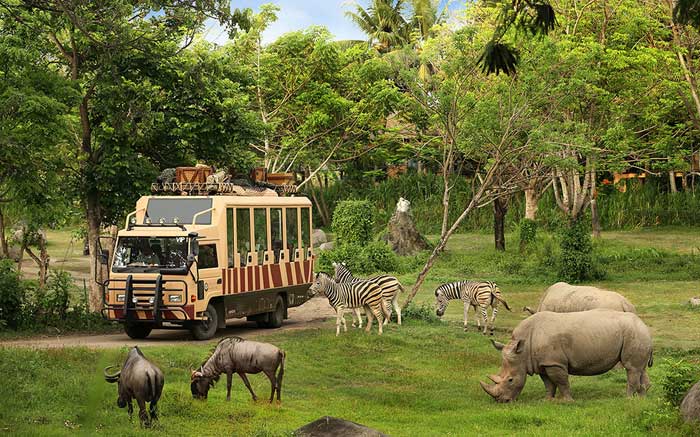 You can never have a great vacation till you visit this safari and marine park, one can enjoy eating out, resting and playing with the creatures of this park that will allow you to hear the roars of the lions as well as enjoy the sight of animals.
Bali Safari and Marine park is actually not a Safari, but it is a kind of open zoo that you can visit and find many creatures that have been imported creatures from different Continental.  Have the once in a lifetime experience of having dinner with the lions at Tsavo Lion Restaurant,  and watch these mighty beasts walking away in glory exactly next to you.
What is the location of this Safari and marine park? This safari and marine park is located in Jl. Bypass Prof. Dr. Ida Bagus Mantra Km. 19,8, Serongga, Kec. Gianyar, Kabupaten Gianyar, Bali 80551, Indonesia
4. Pura Luhur Uluwatu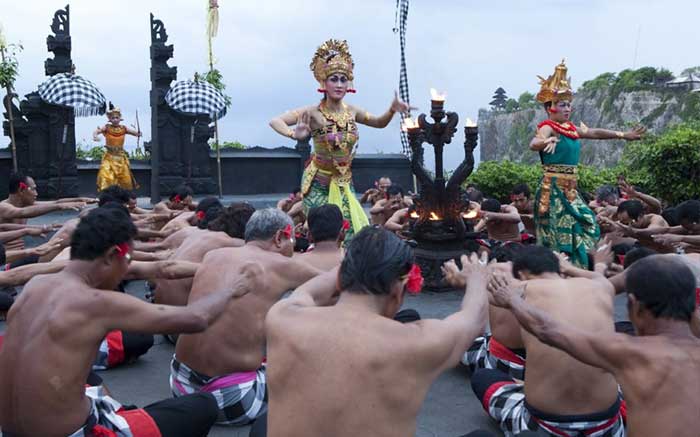 Bali is famous for its temples. This is one of the most magical locations of Bali as one would find Pura Luhur Uluwatu is perched on the top of a steep cliff and is one of the six key temples that happen to be the spiritual pillars of Bali and is visited for its location and the amazing view of the sea that it provides along with the backdrop of sunset that is simply ethereal. One can also enjoy the daily Kecak dance performances along with the amazing Balinese architecture that is a part of this sea temple. Pura Luhur Uluwatu temple is at 250 feet above the waves of the Indian Ocean that is an ideal spot for enjoying the sunset views. This temple has the Balinese-Hindu deity as the main God and is open for only Hindu followers who can enter the small temple inside.
Where is Pura Luhur Uluwatu located?: Pura Luhur Uluwatu is located in Jl Ulu Watu.
5. Ubud Monkey Forest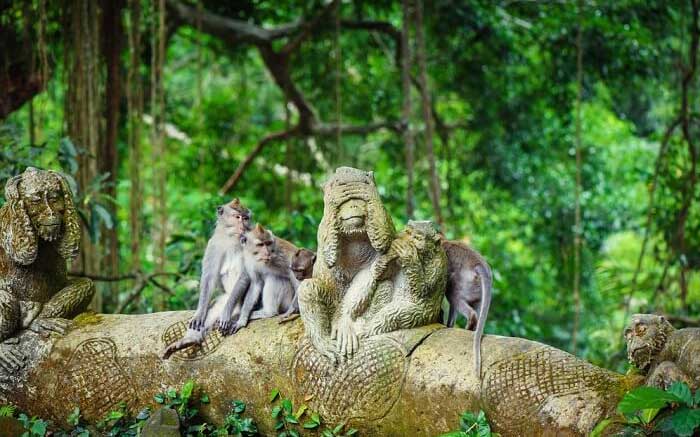 Ubud Monkey forest is one of the best places to visit in Bali; this place is also famous by the name of the sacred Monkey forest that has made it a popular tourist hotspot of Bali.  Have a lot of fun watching the monkeys in their living space, going from one tree to another, enjoy the pathways, eating the bananas, one can enjoy some great walks on the nutmeg timberland.
One can find more than a hundred macaques who would be seen occupying the timberland that can be separated into four different troops. Find some beautiful antiquated sanctuaries that have gatekeeper status canvassed in greenery that adds up to this wonderful woodland.
Where is Ubud monkey forest located?: The Ubud Monkey Forest is in the village of Padangtegal.
6. Bali Bird Park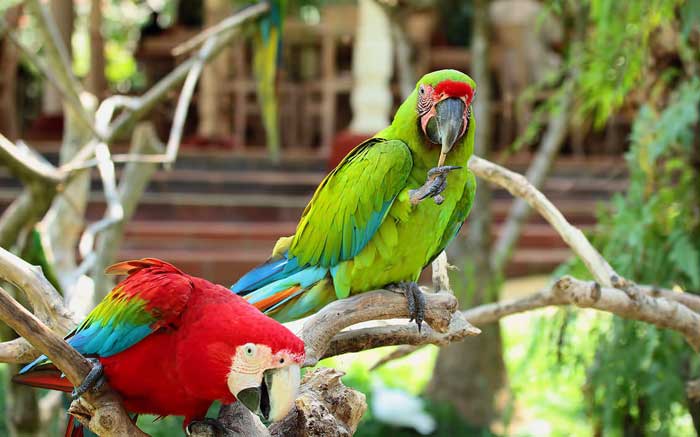 One can also reach out to the amazing bird park which is a great escape for the animals or birds lovers who just want to have a great time, make sure to visit the famous Bali Bird Park and Reptile Park which is one unique and educational attraction that invites the tourists of all ages to meet and greet various bird varieties.
Also, one can have a great time at the state of the art restaurant as well as cafe that offers great cuisine and tropical beverages. This bird park plays an important role to conserve and protect the bird species of Indonesia that houses more than 5000 birds of 200 species on a Bali tour package with friends.
Where is Bali Bird Park located?:  This bird park is in Jl. Serma Cok Ngurah Gambir, Singapadu, Batubulan, Kec. Gianyar, Bali, Indonesia.
[Read Also: 10 Reasons to Honeymoon in Bali – The World's Most Romantic Destination]
7. Nusa Lembongan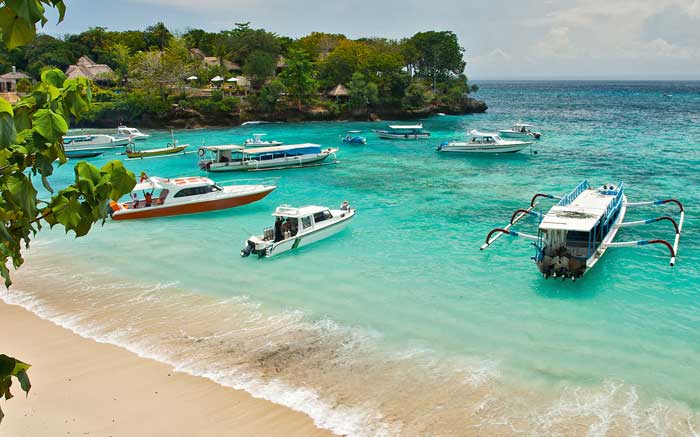 Nusa Lembongan is a gorgeous small island that is based in the southeast coast of the main island of Bali. One of the most famous places to visit in Bali that will make you have a beautiful escape with your partner. This is a great place to visit if you and your friends are looking for some relaxation. Also, the sunset views here are simply magical and one can actually have a fun time visiting the boutique hotels being in Bali and actually shop till they drop!
You can also up the fun quotient by trying out surfing being here in Bali or trying some other water sports such as snorkeling or cycling.
How can one reach here?:  The best way to reach here would be through boat as one can save a lot of money by doing so, but if you have a great budget, you can either rent a speedboat or even charter a helicopter.
8. Sekumpul Waterfall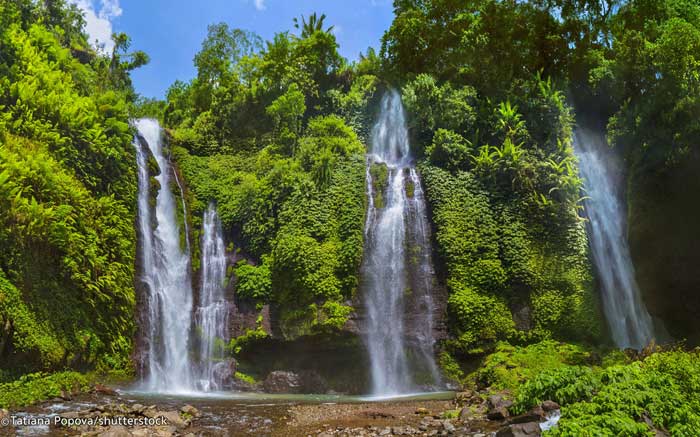 A gorgeous trail of stairs, this one will give you the stunning backdrop of the paddy fields when you reach out to these cascading waterfalls which are one of its kinds and are truly a sight to behold on your trip. Sekumpul Waterfalls derive their name from the village Sekumpul where these are based in. One can find a cluster of seven falls that are present there.  Sekumpul waterfalls has greenery that surrounds it and one can never forget this breathtaking sight that one can never forget while being here in Sekumpul waterfalls.
One can have a fun trekking experience till these waterfalls and enjoy a dip in the pool beneath to have some crazy fun with friends.
Where is this waterfalls based in?:  Sekumpul waterfalls are based in Sekumpul Village, Sawan District, Buleleng, Singaraja, Bali, Indonesia.
9. Elephant Safari Park, North Ubud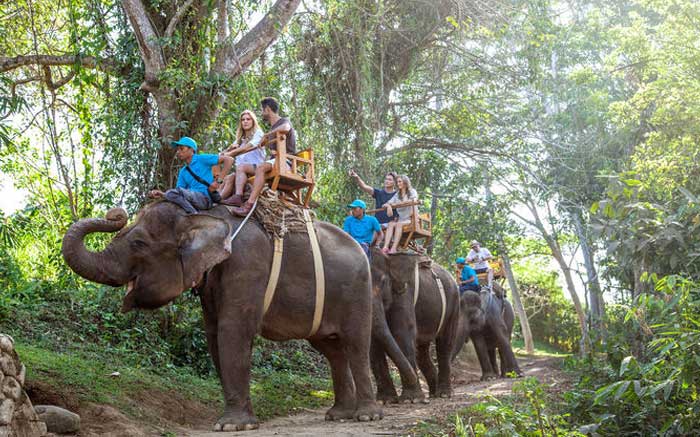 Elephant safari in North Ubud is another great thing that one can try with friends being in Bali. Not only it is going to be a lot of amazement riding the elephants, but one would also have a beautiful time gorging on the beautiful vistas that surrounds it on Bali adventure tour package from Delhi.
Where is this safari park located?:  This Safari Park is located in Bali Elephant Safari Park of Desa Taro, north of Ubud.
Thus, these are some of the best places that one can witness being in Bali with friends and create some epic memories that one would cherish for the rest of their lives on a Bali Holiday Package from India.
Contact Details:-
Sharp Holidays (India) Ltd.
111-113, Somdutt Chamber-II, 9, Bhikaji Cama Place, New Delhi 110066
Contact us : (+91) 8826135777
Email ID : tour@sharpholidays.in
Website:- www.sharpholidays.in